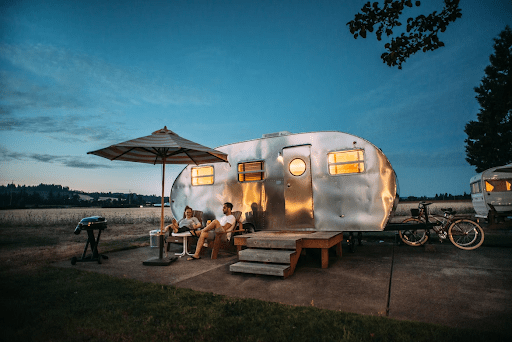 How To Renovate A Caravan: A Step-By-Step Guide
Whether you're planning to relax on a long weekend or travel across the country for a few months, a caravan is the perfect way to get some much needed free time away from your home. To make your stay more enjoyable, you may be looking to restore your old caravan. If it's your first time we have all the top tips and tricks when it comes to learning how to renovate a caravan and preparing the right renovation waste removal plan. Read on to get inspired.
Overview:
How to renovate a caravan: 10 steps
1. Purchase a caravan
The first one may be a bit obvious if you don't already have a caravan, but you will need to purchase one before starting. Your choice will all depend on your budget, how many people will be travelling and whether you're looking for a holidaying, touring or off-roading caravan.
There are plenty of affordable vintage caravans on the market. You can look on reliable websites such as Caravan Camping Sales, Facebook Marketplace and Gumtree. Always make sure to arrange an inspection before purchasing your caravan.
2. Hire a skip bin
The best way to stay on top of your renovation waste plan is by hiring a skip bin. A skip bin company (like Just Skips) will deliver a skip bin straight to your door and you can also choose from different skip bin sizes. This is a convenient option which requires little to no effort on your part. All you need to do is fill your skip bin and we'll pick it up and dispose of everything for you.
3. Remove rust
Before you get carried away with the painting, you will need to remove any rust from the caravan. If rust isn't removed, it will continue to eat away at your metal surfaces.
Check over all your interior and exterior surfaces, including the wheels and remove the rust with a wire brush. If the rust is difficult to remove, try using a liquid rust remover. Follow this with some sand paper on the surface and top with some sealant to prevent any more rust.
4. Paint the exterior
Once you have picked out your favourite colour scheme, you will need to wash the exterior thoroughly. Next, place masking tape around all your doors, windows, seals and wheels to prevent any paint getting onto these areas. Use either a roller painter or a brush to cover the surface. It's also important to use two coats of paint to prevent any cracks and peeling. We also recommend painting your caravan on a shady day to avoid your paint becoming tacky.
5. Replace the electrics
Now you have updated your exterior, it's time to learn how to renovate your caravan interior. If the electrical components in your caravan are no longer working or compatible with new applications, then we recommend changing these over. The best way to get the job done properly is to hire an electrician. Once completed, they will give you a Certificate of Compliance for Electrical Work which is required if you're looking to connect your caravan to mains electricity.
6. Fix the walls, ceiling and flooring
If the walls and ceilings are still in relatively good condition, they may only require some filler and sanding. However, if you need to completely renovate the caravan walls or the ceiling, we suggest hiring a professional, otherwise you can always DIY it!
To refresh your flooring, we recommend using laminate floor boards as they are super easy to lay and cut around different parts of your caravan.
7. Paint the interior
When it comes to learning how to renovate a caravan, picking a colour scheme is very important as it will change the entire look of the inside. The first step to painting your interior walls is to thoroughly clean your walls, then once dry, you can apply an undercoat to prepare for the coloured paint. You can also refresh your cupboard doors with some new paint. Once your paint has dried, seal it with a top coat!
8. Renew the benches and sinks
If your benchtops and sinks are looking tired, you can easily renew these. Just make sure to measure your spaces and then you can purchase new timber and sinks. Simply cut a hole into your benchtop and place in the sink and seal it. If you don't feel comfortable doing this on your own, you can always get help from a professional. Once you have applied your new countertop, don't forget to top it with a coat of varnish.
9. Install new kitchen and bathroom fittings
Once you have finalised all your benches and sinks, now's the perfect time to install all your kitchen and bathroom fittings. These can include taps, shower heads and toilets. You can either do this on your own or with the help of a professional.
10. Add curtains and final decorations
Now that all the hard work is done, your caravan interior refurbishment awaits. You can decorate your new space with your favourite curtains, sheets, cushions and more! There are plenty of options for curtains. You can buy some small pre-made ones or you can choose a fabric and make them yourself.
You can also add some hanging plants, wall art and mirrors to freshen up your space.
Just Skips is here to help
And there you have it, our step by step guide on how to renovate a caravan and dispose of all your leftover waste. No matter what renovating project you have planned, Just Skips is your best choice when it comes to waste removal. We offer affordable skip bin hire, starting from only $250. We also offer a range of skip bins for different waste types, including green waste, dirt, sand and soil, and brick and concrete. If you have any other questions about skip bin hire, please don't hesitate to contact us.
How to renovate a caravan: FAQs
How much does it cost to renovate a caravan?
It all depends on the size of your renovation project. If you're on a budget, a caravan renovation can start from $3,000. However, if you're looking at a larger renovation project, it can cost over $15,000.
Is it worth restoring an old caravan?
Absolutely! Renovating a caravan is a great investment if you have travelling plans. It is also rewarding to see all your hard work and efforts come to life.
What do you line inside a caravan?
The most popular option when it comes to lining the inside of your caravan is plywood. This is a great option as it's cost effective, lightweight and visually pleasing.
People also read: