In Adelaide, strict rules are enforced around e-waste recycling and how computers, televisions, microwaves, and other electronics can be disposed of safely. This means they cannot simply be thrown away or placed in a general waste skip bin. Please read through the following information carefully before considering disposing of any electronics, and contact Just Skips if you have any questions about electronic waste disposal in Australia.
What is e-waste and why is it a problem?
Electronic waste (or e-waste) is the name used for any used or broken electrical appliances that are no longer wanted. It can include appliances like computers, televisions, stereos, microwaves, printers and so on.
Electronic waste contains a wide range of hazardous materials and chemicals, some of which are dangerous to human health or hazardous to the environment. Since 2012, it has been illegal to throw away certain types of electronics in South Australia. In fact, many electronic items, such as televisions, phones, computers, fridges, electronic toys, vacuum cleaners etc have been banned from landfill entirely. Instead, they must be recycled. Because of this, waste removal facilities will charge additional, substantial fees, or even return your electronic waste to you, if you attempt to throw out any e-waste items in a skip bin in Adelaide.
Electronic waste disposal
Because electronic waste is deemed a hazardous waste, it cannot be placed in any kind of skip bin or even your general waste bin (with the blue or red lid). So, when it comes to electronic waste disposal, what are your options? You can either:
Take it to a licensed recycling facility

Hire a skip bin (only valid for whitegoods, vacuum cleaners, DVD players, and lamps)

Dispose of it through your council's hard rubbish collection service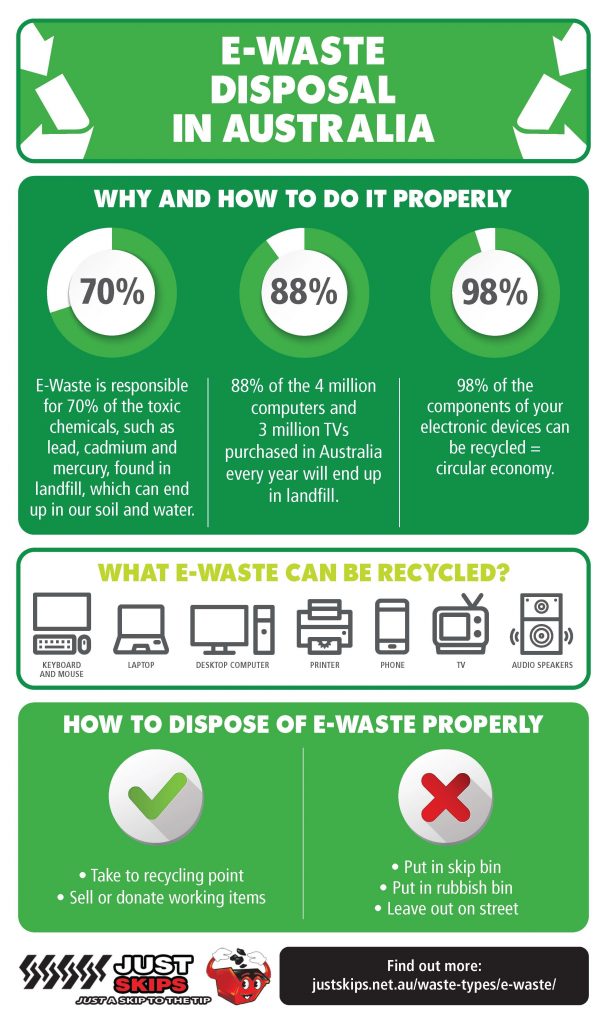 Electronic waste recycling in Adelaide
So, where can I take e-waste in Adelaide? Within Adelaide, there are dedicated facilities for recycling electronic waste. Please keep in mind that some e-waste recycling facilities charge fees or do not take specific e-waste types. You can learn more about it on the East Waste website.
E-waste collection through your council
When you book a hard rubbish collection through your local council, you can often dispose of your electronic waste at the same time. This can include items like:
Televisions, VCRS, remote controls, speakers and gaming consoles
Computers and virtually all computer peripherals (including keyboards, mice, and other hardware)
Household appliances like vacuum cleaners, toaster and microwaves
Tools like sewing machines and electric mowers.
See also:
Onkaparinga hard rubbish
Mitcham council hard rubbish
Burnside council hard rubbish
City of Charles Sturt hard rubbish
Electronic waste disposal & skip bins
While whitegoods, vacuum cleaners, DVD players and lamps can go in a skip bin, the majority of electronic waste cannot. Below is a list of the e-waste types that cannot be disposed of in a skip bin. However, you can take these to your local e-waste recycling centre.
Printers
Mobile phones
Scanners
Keyboards
Computers (monitors, hard drives, laptops and tablet computers)
Computer mice
Monitors
Photocopiers
Television sets
For more information, check out our Waste Types page or please contact Just Skips online or on (08) 8255 6677 with any questions.
You might also be interested in…