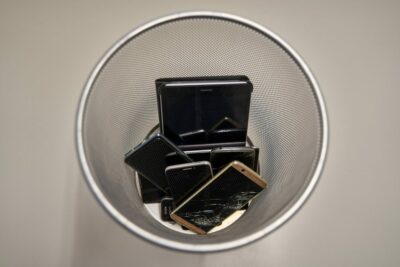 E-Waste Recycling Process: What Happens To Your Electronics
E-waste has become a fast-growing problem all around the world. The amount of e-waste has even doubled since 2009 and continues to skyrocket out of control according to the Australian Academy of Science. With the toll e-waste is taking on the environment, the best solution is to learn about the e-waste recycling process and how you can do your part to commit to a more sustainable future. Read on to learn more about our top tips and tricks when it comes to electronic waste disposal in Australia!
Overview:
What is e-waste?
E-waste is a shortened word for 'electronic waste'. E-waste includes computers, mobile phones, televisions, stereos, printers, earphones, and many other electronic devices that are near the end of their life. However, many of these products can be reused, recycled, or refurbished. And if they're not disposed of properly, they can have significant negative impacts on the environment.
Why is e-waste recycling important?
Electronic devices contain many different toxic chemicals such as mercury, lead, cadmium, barium, and lithium – which will leach into the soil once they have been buried underground. And, if e-waste is burned, these chemicals will disperse into the air, which can be extremely hazardous for all living things.
E-waste recycling is important for 3 main reasons:
Reusing resources: Although e-waste is filled with toxic chemicals, it also contains precious resources, such as gold, glass, iron, steel, plastic, brass, and zinc, which can be recovered for other purposes.
Environmentally friendly: E-waste recycling prevents your electronics from going to landfill, which lowers the amount of pollution.
Better for the economy: When recycled e-waste is used to create new products, less water and energy are used. Not only does this reduce the amount of pollution, but it also lowers costs as goods are not created from scratch.
How much e-waste is recycled in Australia?
With the increased need for new technologies in our home offices and for entertainment purposes, e-waste has rapidly increased and is predicted to reach over 70 million tonnes per year by 2030, according to ABC News. And, despite all the valuable materials inside e-waste, only around 17.4% will be properly recycled each year.
The e-waste recycling process: 5 steps
1.  Collection and transporting
The first step in the e-waste recycling process is collecting all the electronic items, either from recycling bins, on-demand collection services, and collection facilities. The mixed electronic waste is then transported to e-waste recycling plants to be separated into similar electrical types.
2.  Manual sorting and shredding
Once the e-waste has been separated into separate categories, it will go through a stage of sorting where items like batteries and bulbs are removed. During this stage, some items can even be removed for reuse.
The e-waste is then shredded into smaller pieces, and manually sorted, so more valuable items can be restored. The materials will be categorised into core materials and components, which will be further recycled for use.
3.  Dust extraction
The next step is to place all of the tiny pieces left over from the electronics onto a conveyor belt for dust extraction. The pieces are shaken on the belt to remove any dust particles, meaning no environmental degradation will take place.
4.  Mechanical separation
After this, different processes of mechanical separation will take place to further extract materials.
The shredded waste is then passed over a strong overhead magnet that helps to separate any steel and iron. These types of metals can then be sent to other recycling plants for smelting. For other materials like circuit boards and metal-embedded plastic, they will commonly need to be mechanically separated for copper and aluminium during this time.
Now that the waste only consists of plastic and glass, water is used to separate the different materials and contaminants. During this stage, the glass can be sent to smelters for the production of batteries, CTRs, X-ray tubes and more.
5.  Preparation for resale
Now that the materials have been fully separated, they are ready for reuse and sale. Some materials like plastic and steel can be used for further recycling. However, other materials may be directly sold on-site.
How is e-waste recycled in Australia?
Now that you know the importance of recycling e-waste, we've compiled our top tips for recycling your e-waste.
1. Go to your local recycling facility
One of the best ways to get rid of your e-waste is by taking it to a local recycling depot centre. However, make sure to do your research beforehand as some recycling sites will only take certain kinds of electronic waste. While you're here you can drop off your other recyclables as well!
2. Hire a skip bin
If you're looking for a super easy e-waste recycling option, hiring a skip bin is your best choice! When you choose a skip bin company (like Just Skips), they will deliver a general waste skip bin straight to your door and pick it up at a nominated time. You can also select from different skip bin sizes, and choose from long-term skip hire if needed.
Please keep in mind that we will only take the following kinds of e-waste in our general waste skip bin:
Whitegoods
Vacuum cleaners
DVD players
Lamps
What e-waste can't I put in my skip bin?
These types of e-waste cannot go in our skip bins. Make sure to dispose of these through an e-waste recycling centre.
Printers
Mobile phones
Scanners
Keyboards
Computers (monitors, hard drives, laptops, and tablet computers)
Monitors
Television sets
3. Check if your store has an e-waste recycling program
Many tech stores have developed e-waste disposal programs where you can bring your electric devices (that are no longer usable) into the store, so they can be recycled properly. Please check with your local tech store to see if they will take your old electronics before disposing of them incorrectly.
Recycle your e-waste with Just Skips
And there you have it, the full rundown of the e-waste recycling process and how you can easily recycle your e-waste at home. At Just Skips, we are committed to protecting the environment. This means when you choose us for your environmental skip hire, we will take your usable waste to a licensed e-waste recycling business for it to be reused!
If you have any questions about the e-waste recycling process or how to recycle your waste, the friendly team at Just Skips is here to help you. You can also contact us on (08) 8255 6677 or online today.
People also read: