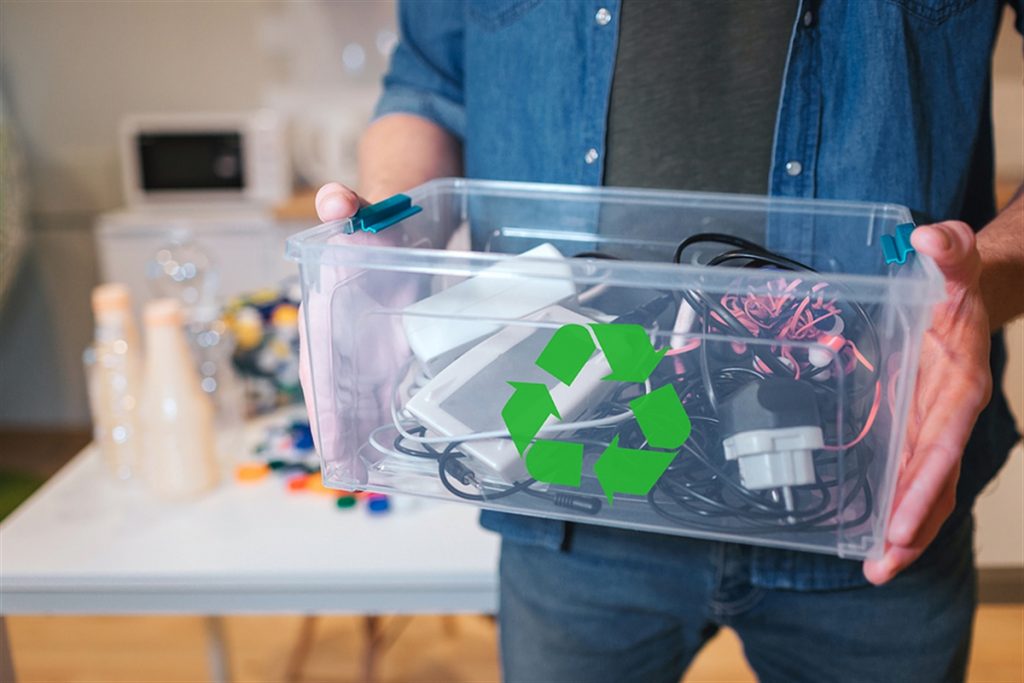 How To Reduce E-Waste: 10 Tips
Nowadays, technology is rapidly improving, which means Australians are constantly upgrading their electronic devices. The constant need to throw away our old gadgets has created a huge e-waste problem around the world, generating over 57 million tonnes globally as of last year. Now more than ever we need to learn proper electronic waste disposal methods. That's why we've put together this guide on how to reduce e-waste. Read on for our 10 easy tips to reduce e-waste.
Overview:
What is e-waste?
Electronic waste, also known as e-waste, is used to describe all types of electronic equipment that has been discarded. Common types of e-waste include:
Electronic cords
Mobile phones
Computers
Smart watches
Televisions
Kitchen appliances
Why is e-waste a problem?
Australians are currently one of the highest users of technology around the world. And because e-waste is the fastest growing type of waste, it fills almost up to 5% of landfill according to The Royal Australian College of General Practitioners. When e-waste is dumped into landfill, electronic devices can produce harmful toxins such as lead and mercury, which seeps into the environment and has detrimental effects.
Why is e-waste management important?
Practising correct e-waste management strategies is important as it helps to conserve natural resources. By recycling your electronic appliances, the valuable raw materials from old devices can be used to create new products, ultimately saving energy, reducing pollution and greenhouse gas emissions.
How to reduce e-waste: 10 tips
There are a variety of ways you can  reduce your e-waste.
Sell or donate your old devices
One of the easiest ways to get rid of your electronics is by selling or donating them. Some good platforms to sell your devices include Facebook Marketplace, Gumtree and eBay. Another great option is to donate your goods to a friend or family member, or through an organisation looking for unwanted devices (such as secondhand stores).
Recycle your electronics
If your device is no longer working and no longer has much value, the best way to dispose of your electronic appliance is through recycling. Many technology companies like Samsung, Apple, Optus and Telstra have recycling programs where you can trade in your devices. Otherwise, you can take your electronics to your local recycling facility, allowing the valuable materials to be reused.
Hire a skip bin
If you have a large pile of e-waste including any white goods (washing machines, fridges etc.) or electrical appliances (vacuum cleaners, DVD players, lamps etc.), one of the best ways to dispose of this is by hiring a general waste skip bin. However, skips bins do not accept the following types of e-waste:
Printers
Scanners
Computers and mouses
Monitors
Photocopiers
Televisions
At Just Skips, we take e-waste very seriously and ensure it's only disposed of in the most appropriate way. If you have any more questions about e-waste recycling using a skip bin, please don't hesitate to contact us.
Repair your devices
If you're experiencing an issue with your electronic device, we know that buying a new one can be tempting. However, you can always contact the manufacturer of your device or your local repair shop to get the problem sorted. This will increase the lifespan of your devices and reduce your impact.
Think before you buy
With all the latest technology releases, we understand it's easy to buy that new TV or mobile phone. But, many of us don't think about whether we really need it. Instead of jumping to buy that new device, consider if your current one is in working condition. Don't forget if there are any minor issues, you can always get these repaired.
Store data online
Instead of using a USB to store all your data and documents, why not simply store it all online? There are a range of softwares available to safely store all your data, including Google Drive and Dropbox. Some require payments and some are free.
Purchase energy star rated equipment
Purchasing electronics with energy star ratings definitely has its benefits. You'll not only reduce your energy bills, but reduce your impact on the environment as you'll use less energy. When you're purchasing your next microwave or washing machine, opt for an environmentally friendly device.
Rent electronic devices
If you need an electronic product for a limited amount of time, instead of wasting your money and buying a new one, rent one instead. Perhaps you need a certain type of vacuum cleaner or a dryer for wintertime, instead of buying this equipment outright and letting it waste away, you can save money by only paying for the duration of time borrowed with renting.
Extend the life of your devices
A great way to extend the life cycle of your electronic devices is by taking good care of them. For example, with your mobile phone ensure you have a durable case, clean it regularly and avoid overcharging.
Upcycle your old electronics
There are plenty of innovative ways you can upcycle your old electronic devices. Some great ideas include using your old smartphone as an alarm or a smart tv remote, converting your old tablet into a photo frame and more.
Reduce your e-waste with Just Skips
And there you have it, our top 10 tips on how to reduce e-waste! At Just Skips we offer a range of affordable skip bin prices, coming in three handy sizes (4m³, 6m³ and 9m³). If you have any questions about this blog or skip bin hire in Adelaide, the team at Just Skips are here to help! You can also call us on (08) 8255 6677.
People also read: