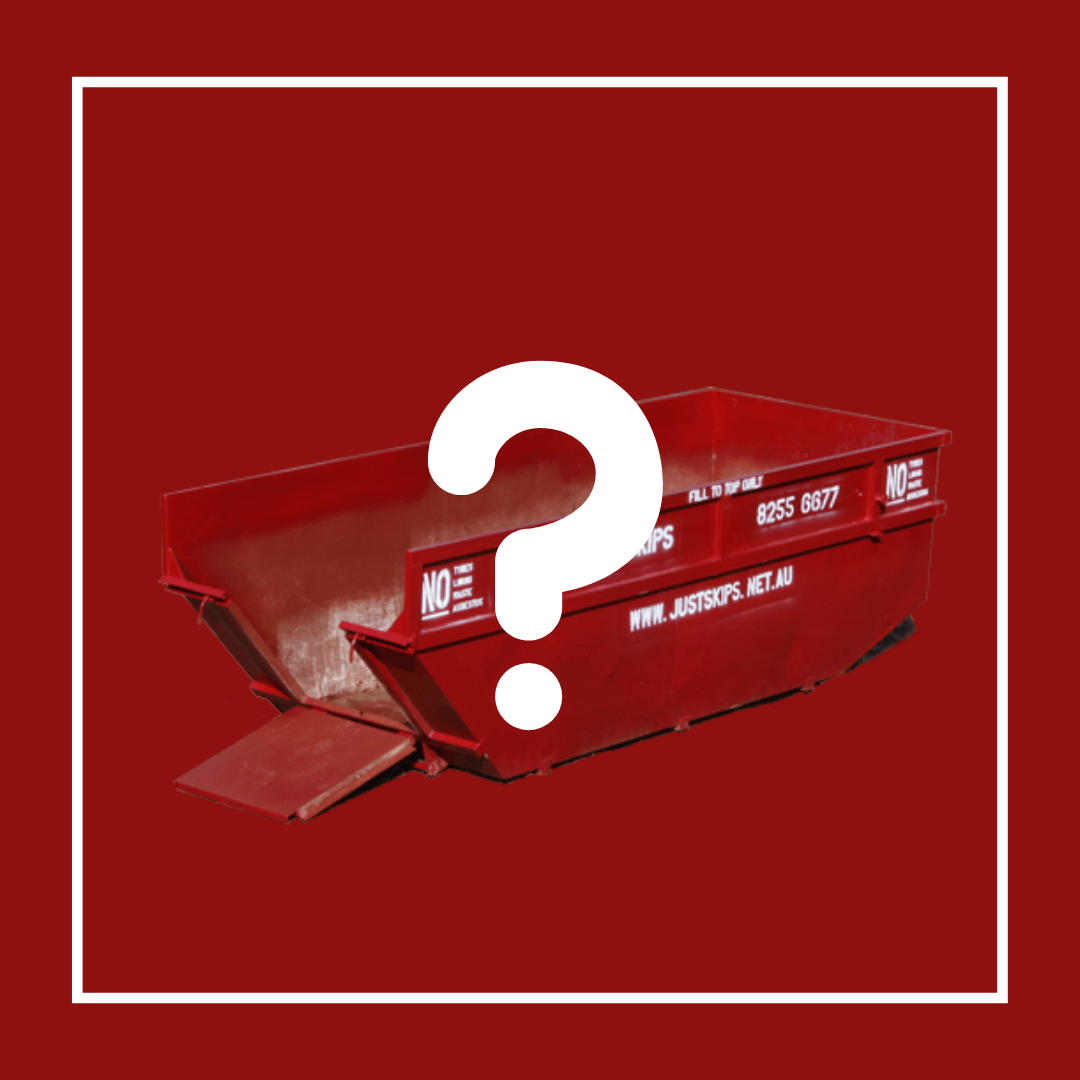 What size skip bin do I need? A simple guide
If you're doing some spring cleaning, a home renovation or you're moving house, you've probably asked yourself, "what size skip bin do I need?". Estimating the skip bin size you need is not always easy, especially if the waste is scattered around the house and garden. You don't want to end up with a skip bin that's too small, because you risk your rubbish overflowing.
Luckily, we've put together a quick guide to help you hire a skip that's right for the job at hand! Keep reading to learn how to choose a skip bin.
Overview:
What size skip bin do I need? 3 skip bin sizes
At Just Skips, we offer 3 different skip bin sizes – these range from mini skips to 9m3  bins. And while all skip bins are multitaskers, we've broken down which bin suits the most common jobs down below.
4m3  bin
Planning a small clean up? Moving house? Renovating your bathroom? A 4m3  bin is what you need. Able to comfortably fit in your backyard or driveway, this bin roughly equals 25 wheelie bins. This makes it ideal for small waste management projects.

If you're wondering "what size skip bin do I need for green waste?", and your backyard is on the smaller size, the answer is a 4m3  bin. These mini skips are also great for small bathroom renovations, general clear outs and getting rid of your household junk.

6m3  bin
Equal to 40 wheelie bins, the 6m3  bin is perfect for a number of projects. If you're in the middle of a kitchen renovation and have cabinets, benchtops, a dining table, floor tiles and more to get rid of, this skip size is your go-to. We also recommend the 6m3  bin for larger garden cleanups, especially if you're landscaping and have big branches to throw away.
9m3  bin
Got a big clean up job ahead of you or need construction waste removal? The 9m3  bin is exactly what you need. Standing at 1.5m tall and 4.5m long, and able to take 60 wheelie bins worth of rubbish, this skip bin is ideal for any mammoth-sized job.
We recommend the 9m3  bin for renovations, builders and decluttering large family homes.
Still need help visualising our skip bin sizes? Check out this infographic size guide.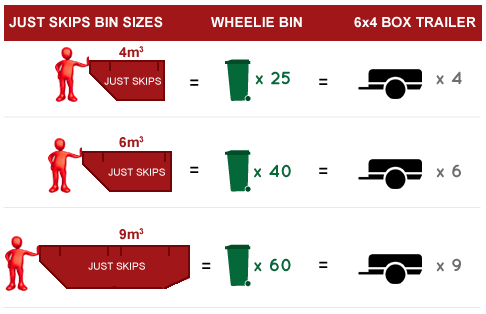 So, what size skip bin do I need?
With 3 different sizes and great skip bin prices to match, there's no job too big or small for Just Skips. And with our skip bin hire guide, you now know how to choose the best skip bin size for the task ahead!
But, if you're still wondering "what size skip bin do I need?" give our friendly team a call! We can guide you over the phone. No matter the amount of waste you have, Just Skips is here to help. Trust the skip hire Adelaide locals know and love, and contact us today.
You may also like: