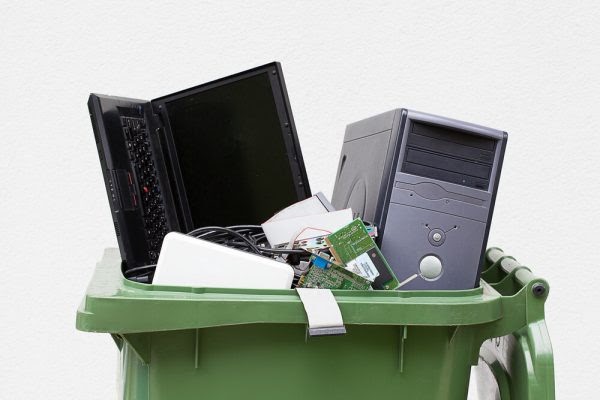 How to Dispose of Electrical Appliances
In Adelaide, strict rules are enforced on how to dispose of electrical appliances, including computers, televisions and other electronics. Due to the hazardous materials that come from electronic waste disposal (e-waste), getting rid of old laptops or household appliances isn't so simple – which is why the team at Just Skips want to make sure you have all the information you need on appropriate types of waste disposal. Read on to learn how to dispose of electrical appliances properly.
Overview:
How to get dispose of electrical appliances
What can I put in my skip bin?
What can't I put in my skip bin?
What is electronic waste (e-waste)?
E-waste is the scrap that is produced from discarded electronic devices. Electronic devices are items like laptops, phones, TVs and anything else that contains electronic or computer parts.
Today, it can be confusing to know what is electronic and what is simply electrical, so that's why this guide covers broadly how to dispose of electrical appliances. Neither electrical nor electronic waste can be disposed of in a general household rubbish bin.
Both electrical and electronic waste can contain hazardous materials including heavy metals and glass – which pose a significant threat to the environment. Because of this, getting rid of electrical appliances has been heavily regulated in South Australia. Waste removal facilities will either not accept this waste, or charge additional fees.
We want you to get the most out of your Just Skips service, which is why it's important to us that you know how to dispose of electrical appliances in Adelaide. If you've got any questions, contact us today and we'll be more than happy to assist.
How to dispose of electrical appliances
What electricals can I put in my skip bin?
Can you put electrical items in skip bins? It ultimately depends on the appliance, but you can dispose of the following with Just Skips:
Whitegoods – washing machine, refrigerator etc.

Vacuum cleaners

DVD players

Lamps
For more information, see our general waste skip bins page.
What electricals can't I put in my skip bin?
There are several kinds of electrical waste items, in particular electronic devices, that cannot go in skip bins. These include: 
Printers

Mobile phones

Scanners

Keyboards

Computers (monitors, hard drives, laptops and tablet computers)

Computer mice

Monitors

Photocopiers

Television sets

Game consoles
Keep in mind that technology develops fast, so just because an item isn't on this list doesn't mean it can definitely go in a skip. 
To practise proper disposal of the above, you need to do so through electrical waste programs with recycling schemes. There are a variety of new initiatives undertaken by local councils and not-for-profits to accommodate and educate the community on how to dispose of broken electrical and electronic devices via a designated e-waste recycling bin.
Your local Bunnings is likely to have an e-waste disposal facility at their store thanks to their work with Electronic Recycling Australia (linked below). We recommend contacting your local council to see whether they have an electrical waste program. You can also try not-for-profits like:
The waste removal service Adelaide locals turn to
Just Skips can help you with all of your waste disposal needs. We offer a range of other waste disposal services for homeowners and businesses, such as construction waste removal and garden waste removal.
For more information on how to dispose of electrical appliances, or if you want to know about how Just Skips can help you with other waste types, contact us online or on (08) 8255 6677.
People also read: