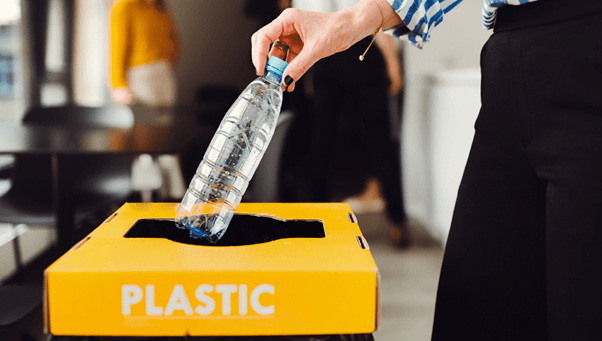 How to Reduce Waste in the Workplace
We spend almost one third of our lives in the workplace, so when you're looking to reduce your waste, it's the perfect place to start. With people coming and going, team lunches and activities, the office can become a breeding ground for all different waste types. That's why we've put together our top tips on how to reduce waste in the workplace so you can get started.
So what are 10 ways to reduce waste in your workplace? Read on to find out.
Overview:
How to reduce waste in the workplace: 10 easy tips
1. Go paperless
When you're learning how to reduce waste in the workplace, using less paper can be a great place to start. This is because going paperless not only reduces the amount of paper you use, but also pens/pencils and printer cartridges. Here are our top tips for going paperless:
Use Google Docs to write, edit and collaborate online
Share documents via the cloud or email rather than printing them
Sign PDFs for free online thanks to Adobe
Take notes using an app on a tablet, laptop or smartphone
2. Create a recycling program
Another easy way to reduce waste in the workplace is to encourage employees to recycle properly. Set up a centre in your office with recycling bins for plastics/bottles and cardboard/paper. We also recommend creating some signs indicating what should go in each bin so your employees feel confident recycling their rubbish.
3. Don't print in colour & print on both sides
If you can't go completely paperless, try printing documents in black and white rather than colour as it uses a lot less ink. We also recommend printing on both sides as it reduces your paper waste.
4. Reuse office essentials
Before you throw anything away in the office, see if there's a way you can reuse it or offer it to employees for their home office or craft projects. Some examples of things you can reuse include:
Folders and binders
Envelopes or packaging
Coffee mugs
Drink bottles
Scrap paper
5. Do a big clean out
If you've been hoarding files or broken office furniture, it might be time for a big clean out. It can also be a good way to take stock of anything you can potentially reuse or items that you have large amounts of (e.g. folders, pens, coffee cups).
If there are things you need to throw out, make sure you're using an Adelaide skip bin hire service that disposes of and recycles them properly. At Just Skips, all the waste from our skip bins is taken to a licensed waste sorting facility where useful materials are recovered for reuse. Only non-reusable waste types are sent to landfill and bear in mind that there are strict rules in South Australia regarding e-waste disposal that you should consider. We also have a variety of skip bin sizes to cater for all needs, including mini skip bins.
6. Start composting
Food waste produces 8% of global greenhouse gas emissions, which is why it's so important that you incorporate composting initiatives into your workplace. It can be as simple as having small compost bins in the kitchen that you can tip into a larger compost bin out the back. Here are some everyday items you can compost:
Vegetable food scraps, such as: banana peels, avocado skins and lettuce
Stale bread
Eggshells
Coffee grounds
Black and white newspaper
Plant trimmings
Dead plants (not diseased)
Compostable plates and cutlery
7. Buy supplies in bulk
Have a lot of coffee or tea drinkers in the office? Or like having office snacks? Consider buying your milk, coffee grounds, tea and anything else you regularly use, in bulk. By buying in bulk, you can significantly reduce the amount of packaging you use.
8. Get rid of disposal plates & cutlery
How can we reduce waste in the office? Opt for reusable plates and cutlery instead of disposable ones. This is particularly important if you regularly host team lunches.
9. Install a water filter
In South Australia, this is a super-easy way to reduce drink bottle waste at work. By installing a water filter, you can encourage employees to use reusable drink bottles or glasses instead of buying and throwing away plastic bottles.
10. Reduce your food waste
Whether you regularly host team lunches or provide snacks in the office, odds are you'll end up with food waste. But, how can we reduce food waste in the office? Here are our top tips:
Carefully calculate the amount of food you need for team lunches (i.e. don't buy 3 bags of burger buns when you probably only need 1)
Encourage employees to take leftovers home in containers
Opt for non-perishable snacks
Try to make food last longer (you can freeze bread and just take slices out as you need)
—
So now you know how to reduce waste in the workplace, it's time to implement our tips. If you need any help or want to learn about our skip bin hire prices, please don't hesitate to get in touch with the Just Skips team.
People also read: