How to Dispose of Broken Glass Safely
Steps to disposing of broken glass safely
Protect yourself with appropriate footwear and gloves
Seal glass in a box, plastic bags or wrap it in several sheets of newspaper
Tape up any cracked glass such as mirrors, dinner plates, or drinking glasses to prevent it shattering
Break down larger glass objects
Clearly label the package, ensuring the garbage handler is aware there is broken glass inside
Vacuum over the area where glass was broken to remove smaller shards
Place in kerbside waste bin (do not place in recycling bin)
Need more information? Read on to find out more!
There's no doubt that there isn't anyone who wouldn't have broken some kind of glass object at some point in their life. Whether it was your mother's favourite vintage vase, a freshly poured wine glass or a cricket ball through a window. Eventually, breaking glass is pretty much unavoidable for anyone, no matter how careful you are.
Along with these day-to-day mishaps come the less common but time-consuming household jobs such as renovating or decluttering your home. This is where even more mess is made, and plenty of glass is broken.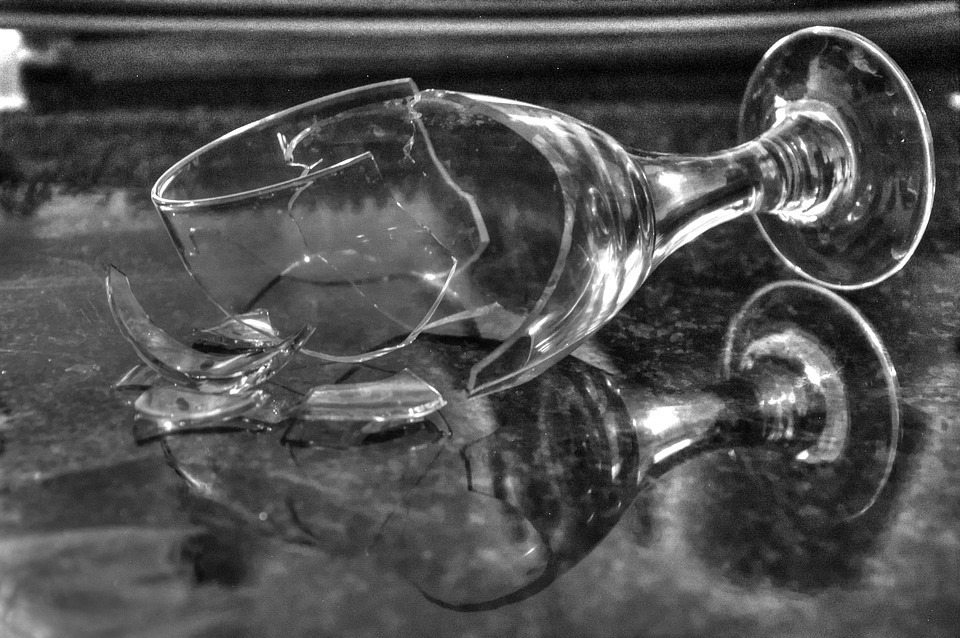 No matter whether you're collecting the broken shards of glass from a common mistake or cleaning up the aftermath of large household projects, the disposal of broken glass can be hazardous. So how do you dispose of broken glass correctly and, more importantly, safely?
Is broken glass recyclable?
Most types of glass can be recycled by melting the glass down and reforming it into a new object, but does this mean that we can place broken glass into our recycle bins?
We recycle unbroken glass bottles with no worries, so why is broken glass different? The answer is that broken glass cannot actually be placed into your kerbside recycle bin. This is due to several reasons, but the main one is that broken glass is dangerous for the workers who sort through our recycled objects.
Since broken glass can't be recycled this way, it must instead go in your kerbside waste bin. That said, it is important that broken glass is not just "dumped" straight into that bin. Some simple steps should be taken to ensure yours and others safety when disposing of broken glass.
Safety first
It is recommended that any broken glass is disposed of with care and consideration. This can be achieved by ensuring you follow these simple steps:
Seal any broken glass in a box or wrap it in several sheets of newspaper before placing it in the garbage bin. This ensures the safety of anyone handling the broken glass, prevents plastic bin bags from splitting and contains the broken glass.
Clearly label the box or wrapped parcel with "broken glass" so garbage sorters or anyone handling the garbage is aware of its contents and can do so with extra care.
Tape up any cracked glass such as mirrors, dinner plates, or drinking glasses to prevent the object from shattering. It is also recommended to wrap the object in paper or seal in a box for further precaution as well.
Carefully break down larger glass objects so they can be contained and sealed or wrapped appropriately.
Different types of glass
While being mindful of how broken glass is disposed of, it is also important to note that various types of unbroken glass also can't be placed in your kerbside recycle bin. This is because different forms of glass are made of different materials which each melt down at various temperatures. Also, the glass used for windows, mirrors, and light bulbs for example, contain chemicals that are not suitable for reuse.
To help understand what glass you can recycle and what glass you can't, refer to the list below:
Glass that CAN be recycled:
Clear, green or brown glass bottles – such as wine, beer, soft drink, and sauce bottles.
Glass jars – such as jams and spreads (just remember to remove the lids first!).
Glass that CAN'T be recycled:
Drinking glasses
Ceramics
Oven-proof glass
China
Light globes
Window/windscreen glass
Mirrors
Medical/laboratory glass
White opaque bottles
This was a quick guide for those everyday "accidents" that lead us to disposing of small clumps of broken glass. However for those big jobs such as renovating, landscaping or decluttering, you may need the help of our skip hire services at Just Skips to dispose of your waste, as well as any broken glass you come across. In this scenario, still follow the simple safety steps outlined above. This makes the job easier and ensures everyone's safety. Need some more help disposing of your waste? Check out the latest blogs about how to recycle plastic, moving into a new house and how to clean gutters!