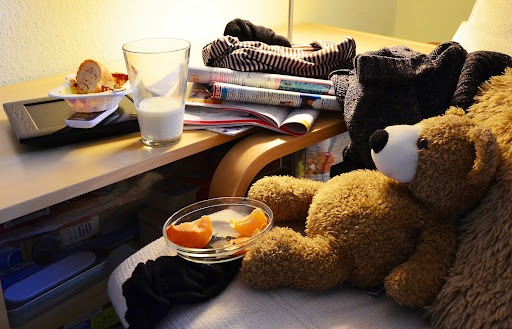 How To Declutter When You Are A Hoarder
Cleaning out a home can be daunting at the best of times; tackling such a big job usually involves lots of general waste and long forgotten junk. However, if you're learning how to declutter when you are a hoarder, then expect a bit more than the odd bit of renovation & construction waste leftover from your latest house project. 
A decluttering session for people with hoarding tendencies is best undertaken with a clear strategy and an action plan. With the right plans in place and our simple decluttering tips for hoarders you can get your home back to looking its best. 
What are the 5 levels of hoarding?
Hoarding may look different to different people, so before you get stuck in it may be important to understand where your house sits on the scale of hoarding. The 5 levels of hoarding reflect the severity of the hoarding. 
Level 1: Light levels of clutter that impact the home.
Level 2: Cluttered access points, pet waste and evidence of rodents.
Level 3: Strong odours and at least one unusable room.
Level 4: Multiple blocked exits, no clean dishes, poor hygiene. 
Level 5: The most severe hoarding disorder and involves fire hazards, rotting food and multiple pets.
Check where you're at below, then we'll continue explaining how to declutter when you are a hoarder.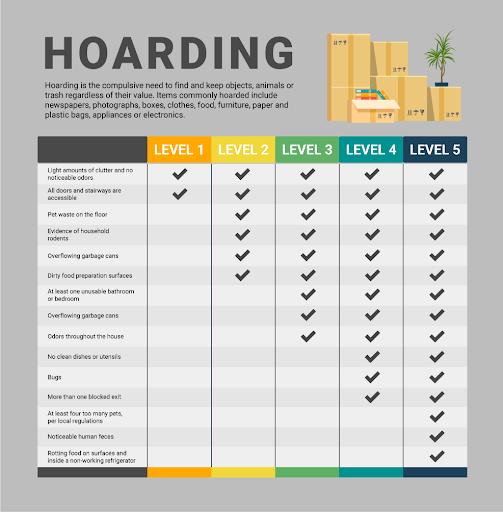 How do you get rid of stuff if you're a hoarder?
When looking at how to declutter when you are a hoarder – getting rid of stuff isn't as easy as just putting it in the bin. In order to successfully declutter your home, prior to starting you need to ask yourself a few key questions. These are:
What's the scale of the job? 
Will you be engaging professional help? Is this a DIY job?  When decluttering and cleaning a hoarder's home, determining the scale of the job before you start will give you a realistic understanding of what is achievable with the time you have. 
What is non-negotiable?
The decluttering process is a journey, which means there will be parameters that must be set at the beginning to ensure that the process is not upsetting to anyone involved. Determine the non-negotiables but be willing to compromise.
Where is the starting point? 
It's important to start small when looking at how to declutter when you are a hoarder. Going in with a basic plan will make the task much more manageable. 
Once you have these basic questions answered for yourself, your friend or your family member, you can start the process of decluttering.
What is the fastest way to clean a hoarder's house?
The best way to declutter when you are a hoarder, or if you're helping a hoarder, is to break the job down into manageable steps. 
5 simple steps to declutter your home when you are a hoarder
1. Secure a storage space 
In order to clear your home, it's vital to have appropriate storage space. When dealing with excess belongings it's important that the items you've opted to keep have somewhere to go as you sift through the rest of the house. If these items are high value, but low use items, a storage unit might be a good solution. 
2. Select a room to begin with 
This goes back to earlier when we suggested you determine a starting point. If you work through one room at a time, the job becomes much less intimidating. Try starting with the room that has the least work to do as you get into the groove of things. 
3. Sort through your paper 
Paper is often one of the biggest hindrances when trying to declutter a hoarder's home. Important pieces of paper and total rubbish can look identical, so cleaning these out requires a bit more of a meticulous eye. Once you've gotten your paper sorted and put away, you can get stuck in to clearing out the rest of the junk without worrying that you're throwing away something important. 
4. Sort everything into designated piles 
Make the job easier by creating piles for different sorts of clutter; a pile for clothes, general waste, dirty dishes etc will make the task simpler to break down. Once you've created your piles, you can go through the piles one by one and get started on decluttering and organising from there. 
5. Organise your clothes into keep, done and discard  
Some ruthless decision making may need to come into effect here. If you haven't worn the clothes in over a year, it may be time to donate. If your clothes are ripped, torn or stained, it's time for the bin or upcycling. 
6. Order a skip bin 
Decluttering a hoarder's home is bigger than a regular decluttering job. This means you'll have more rubbish than your household bins can handle and more trips to the dump than is desirable. Hiring a skip bin will take a lot of the hassle out of the job, especially with Just Skips where we can drop off and collect with no extra work needed from you. If you're asking yourself what size skip bin do I need, we have a wide range of options that will suit whatever job you are undertaking. 
Supplies you need to declutter your home when you're a hoarder: 
Boxes

Large trash bags

Cleaning gloves

Cleaning mask

Duster

Towels

Surface cleaner

Broom

Mop

Buckets

Step ladder

Vacuum cleaner
And there you have it, 5 easy steps for how to declutter when you are a hoarder. 
If you've been busy on the weekend with decluttering, or even renovations, and  have found yourself with some excess waste, we're here to help! We have various sizes and skip bin prices – from mini skips starting at 4m3 all the way up to 9m3 skip bins. Hire a skip online using our online form or speak to our friendly team.
People also read: