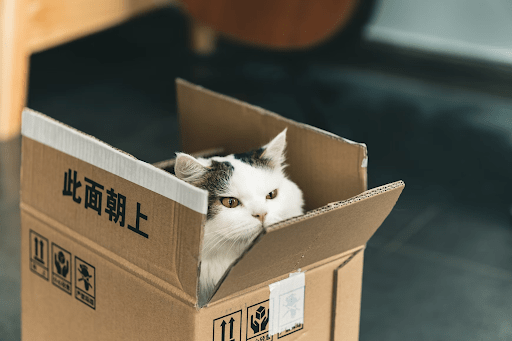 How to dispose of large cardboard boxes
Whether you're moving into a new home or you own a business, there's no doubt you've accumulated large amounts of cardboard at some point. In most cases, you can simply flatten cardboard and place it into your home recycling bin. But, what should you do when you have large amounts of cardboard? The easiest option is to order a skip bin. Our easy step-by-step instructions will teach you how to dispose of large cardboard boxes in no time!
Overview:
How to dispose of large cardboard boxes: 7 tips
1. Go to your local recycling centre
An easy way to dispose of your large cardboard boxes is by taking them to your local recycling centre. Depending on how much cardboard you have, you will usually need a large van or truck to transport all your cardboard to the recycling depot centre. Some sites offer cardboard disposal free of charge, however some cost a small fee.
Keep in mind that you will need to remove any tape and labels before disposing, as these materials are not recyclable.
2. Give them away to family and friends
Many people would be more than willing to take your cardboard boxes off your hands, especially if they're moving house soon. Cardboard boxes can be expensive, so this free option is an easy alternative that saves time and money for your friends and family.
3. Use them for composting
One of the main components of compost is cardboard. As cardboard is rich in carbon, it helps to provide a lot of nutrients for the soil, as well as suppressing weeds. To make compost with cardboard, simply soak the cardboard in some water and shred it up so it can easily break down and create compost when mixed with other greens and scraps.
Learn more: how to compost garden waste
4. Hire a skip bin
When it comes to disposing of large cardboard boxes, the easiest option is to get skip bin hire in Adelaide. You can get a general waste skip bin dropped off at your home and then picked up at your nominated time (once you have finished loading all your cardboard). Depending on how much waste you have, you can also select from different skip bin sizes for your convenience, as well as short or long term skip hire. Don't forget, you can also dispose of other waste types, including:
Furniture
Timber
Fibreglass
Glass/mirrors
Electrical appliances
Clothes
Toys
Metal waste
Green waste
Carpet
5. Put it in the recycling bin
For free cardboard recycling pickup, you can easily break up your cardboard and place some of it in your home recycling bin. Although this will take a while to get rid of all your waste, this is a free and easy recycling option.
6. Repurpose for home projects
Instead of just getting rid of your cardboard boxes, you can always repurpose them for projects around the house. Whether you're looking for some kids cardboard crafts or want to create some new cardboard home decor, there's plenty of great ideas out there to get you started!
7. Sell them online
If none of your friends and family are in need of cardboard, you can always try to sell it online or post it for free. Many people will jump at this opportunity! Some great websites where you can list your cardboard include Facebook Marketplace and Gumtree.
Recycle your cardboard boxes with Just Skips
And there you have it, our 7 top tips on how to dispose of large cardboard boxes. At Just Skips, we're here to help you with all your general waste needs. You can choose from 3 handy skip bin sizes, including our 4m³, 6m³ and 9m³ bins. If you have any questions about this blog or cardboard waste removal, the team at Just Skips are here to answer all of your questions. You can call us on (08) 8255 6677 or contact us via our online form.
If you need help with green waste, renovation or construction waste removal, we're your go-to removal service.
How to dispose of large cardboard boxes: FAQs
How do you destroy bulk cardboard boxes?
The most convenient way to flatten your cardboard boxes is to open the two sides (making sure all the flaps are facing out) and collapse the box. You can also try cutting or ripping up the cardboard into smaller pieces.
How do you tie cardboard boxes for recycling?
After you have flattened all your cardboard boxes and piled them together, simply grab a sturdy piece of twine and tie it into a secure bow. Just make sure you don't have a pile higher than 18 inches, as the twine will be harder to tie.
How long does it take for a cardboard box to decompose in landfill?
We recommend against throwing your cardboard boxes into landfill as they're best suited for recycling. However, if you decide to take it to the landfill they will take around 6 to 8 months to naturally break down. During the decomposition process, cardboard releases harmful chemicals that contribute to global warming, so the best option is to recycle them.
People also read: