How to Prepare Your Home for Fire Danger Season
Steps to preparing your home for fire danger season
Prepare your emergency plan
Clean gutters of leaves and twigs
Maintain your garden
Check if your roof tiles are non-combustible (terracotta and concrete titles are good choices)
Install a sprinkler system around your house and garden
Replace plastic fly screens or screen doors with wire mesh
If you have a swimming pool, dam or water tank, put up a Static Water Supply for firefighters
Check your home and contents insurance
Keep reading to learn more about preparing for fire danger season
As Australians, it's safe to say we all love summer. We spend weekends on the beach, enjoy being outside and eat all the ice cream we can handle. We also love to blast the air conditioning while we're inside and it's scorching hot outside. Unfortunately, bushfires come hand in hand with all of this great weather as well.
If you live in a bushfire zone, it's important you understand your risk and how to minimise it. Preparing your home before fire danger season arrives is the best way to ensure your family and your home are protected.
To help you get started, here are our top tips to prepare your home and remove any fire hazards.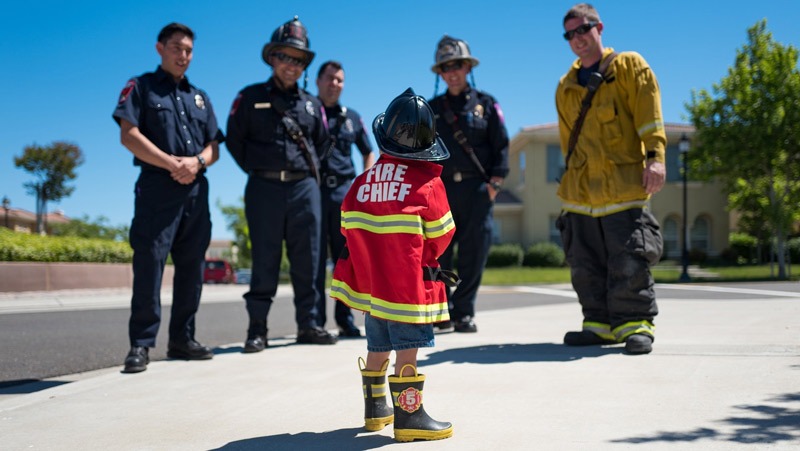 Clean gutters of leaves and twigs
Dry leaves and twigs built up in your gutters make for an easy way for fire to catch quickly, especially if they're exposed to floating embers. Regularly cleaning your gutters and roof is an easy way to protect your home – and your neighbour's – from the threat of bushfires. Make sure you don't just throw these leaves and twigs into the general waste bin too, it's important they go in the green waste bin or a skip bin.
You can also install gutter guards or ember guards as another effective precaution.
Maintain your garden
Keeping your garden well maintained is a proactive measure that reduces the risk and damage of bushfires. Regularly mow your lawn, keep it short, and cut back any hedges, shrubs or trees overhanging your home. If you store mulch or firewood, boxes/crates, flammable liquid, or have outdoor furniture, don't forget to move these to a safe distance from your home too.
It is also essential that any green waste (leaves, branches and grass) you have cleaned up are disposed of carefully. If you have a large amount, consider hiring a green waste skip bin to make the job easier for you.
Get your toolbelt on
Giving your house a maintenance update is another great way to prepare your home against bushfires. If you have any damaged tiles, holes or gaps in your roof, bushfire embers can easily fall in and pose a significant threat to your home. Firstly, check if your roof tiles are non-combustible. Terracotta and concrete titles are good choices. Then replace any broken or cracked tiles and seal up the gaps.
If you haven't got one already, you can consider installing a sprinkler system around your house and garden. Replacing any plastic fly screens or screen doors with wire mesh is another way to prevent fire sparks and burning material from entering your home.
Prepare your emergency plan
So your home is prepared, but are you? It's just as important to have an emergency plan in place in case a bushfire poses a severe threat to your home and family. Consider you evacuation plan, know where your community evacuation area is, and know what you'll do with pets and personal belongings.
If you have a swimming pool, dam or water tank, put up a Static Water Supply sign at the front of your house to help firefighters and fire service crews. Don't forget to also check your home and contents insurance before bushfire season starts to give you peace of mind that you're protected in the worst case scenario.
We're here to help
Fire danger season is scary, and unfortunately, a part of Australian life. It's important you and your family feel safe and protected, which is exactly why it's so crucial to protect your home too.
At Just Skips, we're dedicated to giving you peace of mind. When you hire one of our skips to clean up and prepare your home, you can be confident that you'll be ready for fire danger season.