How To Get Rid Of A Mattress
Dealing with an old mattress can be a daunting task, but worry not – we've got you covered! Our dedicated team is here to provide you with expert guidance on the most efficient and responsible methods on how to rid of a mattress. Whether you're moving, upgrading, or simply decluttering, we'll help you navigate through the process effortlessly with the help of skip bin hire in Adelaide. With our reliable services at Just Skips, you can say goodbye to your old mattress and hello to a clutter-free space. Let's make mattress disposal a breeze together!
Overview:
How to get rid of a mattress

Hire a skip bin

Put it out for residential hard waste collection

Donate it to charity

Recycle it
How
GET RID

of a mattress

Once that brand new, dream–inducing mattress arrives at your doorstep, it's going to be out with the old and in with the new. The "in with the new" part pretty much takes care of itself. But, how exactly does "out with the old" work without paying a small fortune or breaking some regulation laws?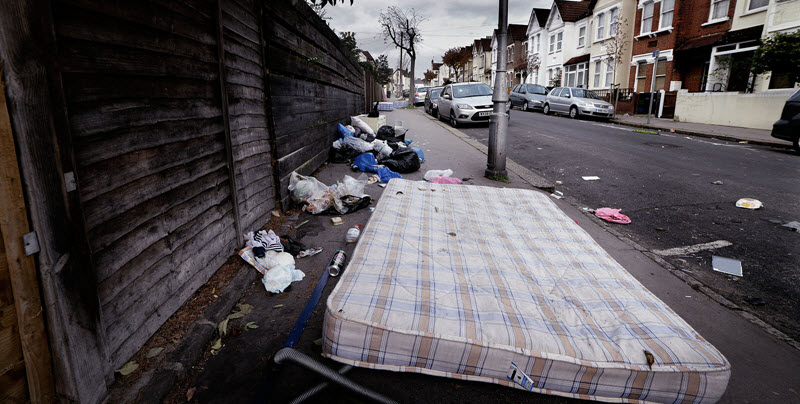 To avoid taking up valuable space in your garage, we decided to put our heads (and beds) together to give you some options when it comes to disposing of your mattress. You can:
1. Hire a Skip Bin
If you are moving, renovating or on a timetable that can't be adjusted your best bet for getting rid of any bulky unwanted items is to contact the professionals at Just Skips. They come in three handy skip bin sizes so we can fit any mattress from twin to king ensuring you get exactly what you need. Mattress removal does cost slightly extra on top of our regular hire fee because our team takes the waste to a licensed sorting facility that recovers all of the useful components that it can find.
Pros
Professional

service

Environmentally-friendly

Flexible timetable
We'll take your mattress no matter what condition it is in
Cons
Extra fees for mattress

removal
2. Put it out for Residential Hard Waste Collection
Each household in Adelaide is allowed to book in two free collections of unwanted household items that are too large to fit in a conventional waste bin.
You can expect a two week waiting period between making a booking and having the city come by to pick up your waste.  Please keep in mind that this period may be longer during periods of high demand. So, if you are in a rush this is not the ideal option. Check out your local council's website for more information.
Pros
It is free (for the first two

, however, additional

pick up

service will

cost $70)
It is reliable
Cons
It can take a long time to schedule in a booking if there is a high demand for the service
No recycling guarantee
3. Donate it to Charity
There are several organisations in Adelaide that will accept used mattresses as a donation to support members of the community who have lost possessions due to a disaster, financial hardship or any other difficult situation.
A timely donation can make a significant change in someone's life simply by putting an item you don't need any more to good use.
Old mattresses are often accepted as donations as long as they are clean, of good quality and ready-to-use. Most of the organisations have volunteers who come to collect donated items after you schedule a pick-up, making things easier for everyone.
Pros
Socially and environmentally responsible
Easy to organise
It is free
Cons
Mattresses

that aren't in good condition

can't

be accepted as donations
4. Recycle It
Dumping mattresses directly into landfills presents a real challenge due to their bulky size and the space they occupy, thanks to those pesky dimensions. This makes recycling a great option because mattresses contain many components that can be efficiently repurposed and used to make a range of other products.
Even if the mattress is in bad shape, a professional recycling centre knows how to extract the foam, latex, springs and scrap metal, which ultimately helps the environment. Please note recycling facilities will often charge a fee for disposal. Check out Bye Bye Mattress for recycling locations.
Pros
Cons
Mattress recycling in Adelaide is often n

ot a free service

Dispose of your mattress with Just Skips
If you want to know more about  how to get rid of an old mattress, or you have questions about the different waste types we dispose of, get in touch with us today and we'll help you out. Plus, we also have plenty of useful information regarding skip bin prices, delivery areas, mini skip bins and much more. Order a skip bin online today or call us on (08) 8255 6677.

How to dispose of a mattress: FAQ
Why are mattresses hard to get rid of?
Mattresses are often a hard item to get rid of due to their size, non-biodegradable materials, and strict disposal regulations, making proper disposal a challenge for people.
How do I dispose of an old mattress for free
?
To dispose of an old mattress for free, there are a few options. 
Check with local recycling centres or waste management facilities to see if they accept mattress drop-off or recycling services for free. 

Some council areas occasionally provide free collection for heavy items like mattresses, so inquire about scheduled collection days. 

Look for mattress recycling events or community clean-up days, where you may be able to dispose of your mattress without a small fee. 

Online platforms, like

Facebook Marketplace

, might also connect you with people willing to arrange old mattresses removal for recycling or reuse, often free of charge.
Can you cut a mattress in half to get rid of it?
While it's possible to cut a mattress in half, we don't recommend using this disposal method. Disposing of a mattress that is intact offers better recycling and disposal options.
People also read: