How to Dispose of a Mattress
How to safely & responsibly dispose of a mattress
Here are some options you have to dispose of a mattress.
Hire a skip bin
Put out for hard rubbish collection
Donate it to the community
Take to a professional recycling plant
Need more details? Read on!
Once that brand new, extra comfortable, dream–inducing mattress arrives at your doorstep it's going to be out with the old and in with the new. The "in with the new" part pretty much takes care of itself but how exactly does "out with the old" work without paying a small fortune or breaking some regulation?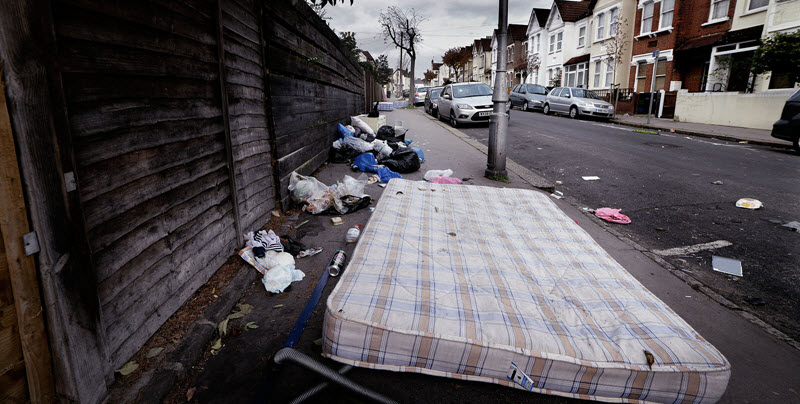 You don't want it taking up valuable garage space, it won't fit in the bin, and you don't want to add to the sad collection of abandoned mattresses accumulating in the vacant lot next to the highway.
Buying a new mattress shouldn't be a pain in the neck just because you don't know how to deal with the old one. We decided to put our heads (and beds) together over here at Just Skips to lay out some options for you to dispose of your old mattress and make things a little bit more relaxing.
Hire a Skip Bin
If you are moving, renovating or on a timetable that can't be adjusted your best bet for getting rid of any bulky unwanted items is to contact the professionals at Just Skips. Our skip bins come in three sizes so we can fit any mattress from twin to king ensuring you get exactly what you need. Mattress removal does cost slightly extra on top of our regular hire fee because our team takes the waste to a licensed sorting facility that recovers all of the useful components that it can find.
Pros
Professional
Environmentally Friendly
Flexible TimeTable
We'll take your mattress no matter what condition it is in
Cons
Extra fees for mattress disposal
Put it out for Residential Hard Waste Collection
Each household in Adelaide is allowed to book in two free collections of hard waste to dispose of unwanted household items that are too large to fit in a conventional waste bin.
You can expect a two week waiting period between making a booking and having the city come by to pick up your waste and this period is longer during periods of high demand, so if you are in a rush this is not the ideal option. Check out your local council's website for more information.
Pros
It is free (for the first

two

Additional pickups cost $70)
It is reliable
Cons
It can take a long time to schedule in a booking if there is a high demand for the service
No recycling guarantee
Donate it to Charity
There are several organisations in Adelaide that will accept used mattresses as donations to support members of the community who have lost possessions due to a disaster, financial hardship or other difficult situation.
A timely donation can make a significant change in someone's life simply by putting an item you don't need any more to good use.
Old mattresses are often accepted as donations as long as they are clean, of good quality and ready-to-use. Most of the organisations have volunteers who come to collect donated items after you schedule a pick-up so it's easy to do and good for the world.
Pros
Socially and environmentally responsible
Easy to organise
It is free
Cons
Mattresses in bad shape probably won't be accepted as donations
Recycle It
Mattresses that are taken straight to a landfill are difficult items to deal with because of their size and the space they require because of their dimensions. This makes recycling a great option because inside mattresses there are many components that can be efficiently repurposed and used to make a range of other products.
Even if the mattress is in bad shape, a professional recycling center knows how to extract the foam, latex, springs and scrap metal, which ultimately helps the environment. Check out Bye Bye Mattress for recycling locations.
Pros
Cons
If you want to know more about disposing of an old mattress, or you have waste types questions you're not sure about, get in touch with us today and we'll help you out. We have information regarding, green waste, rubbish removal and much more. Need even more help about your waste disposal? Check out the latest blogs about how to recycle plastic, moving into a new house and how to clean gutters!