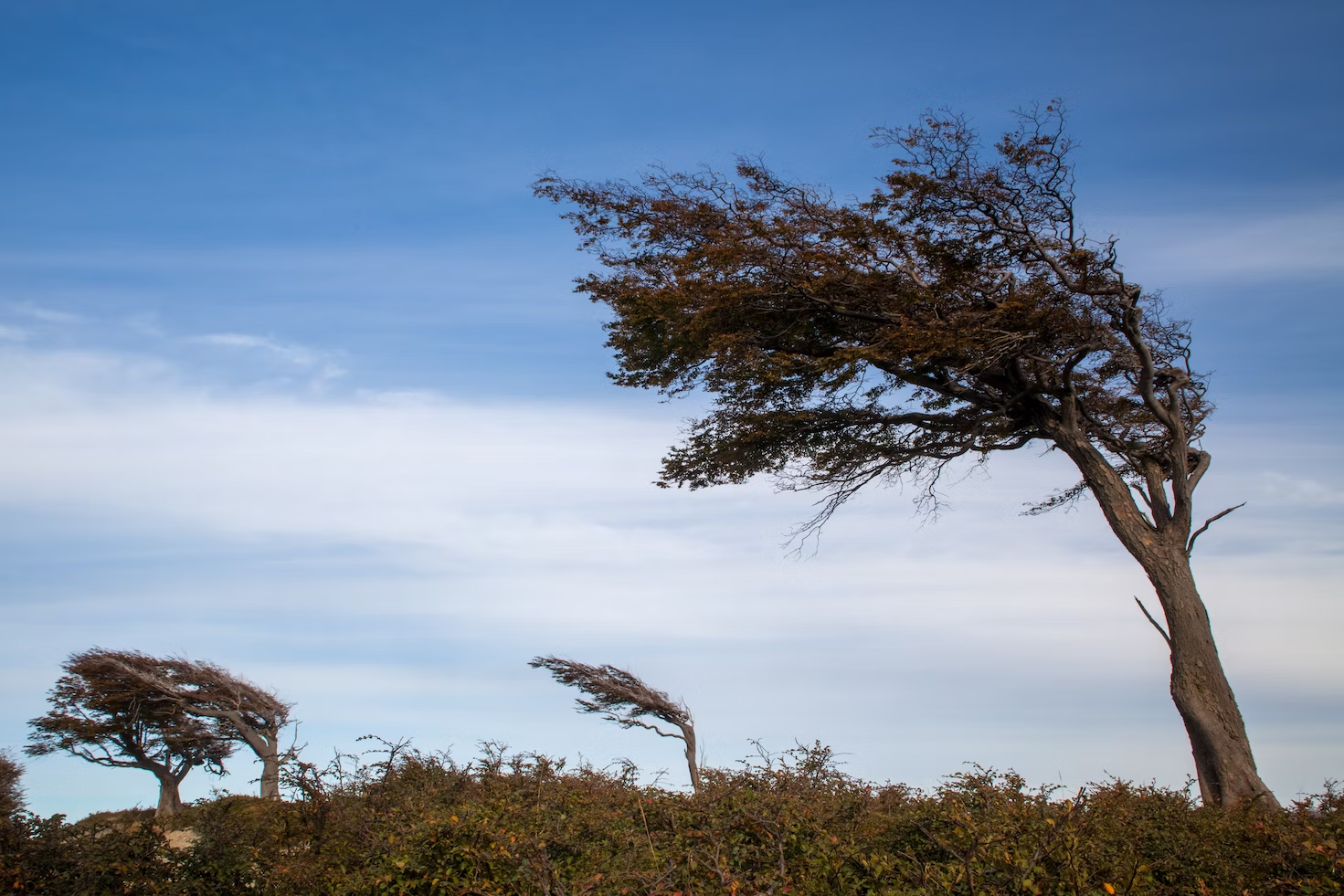 High Wind Safety Checklist
South Australia is known to suffer from high winds from time to time. Properties can experience a lot of damage because of the severe weather conditions and be left with a lot of green waste and debris to clean up. A lot of South Australians are unaware of how to stay safe and unprepared for when severe weather warnings are announced. That's why we've put together this high wind checklist to help keep you safe against the high winds in Adelaide and prevent damage to your home and assets.
Overview:
Secure list items

Trim tree and branches 

Check roof and gutters

Reinforce doors and windows 

Inspect fences and gates

Create an emergency kit 

Stay informed 

Identify safe rooms

Know evacuation routes 
High wind safety checklist
1. Secure loose items
Inspect your property for any loose items, such as patio furniture, garden tools, or children's toys. Secure or store them indoors to prevent them from becoming dangerous flying debris during strong winds.
2. Trim trees and branches
Overhanging trees and weak branches can pose a serious threat during high winds. Prune back any vulnerable branches to reduce the risk of falling debris damaging your property. Tree lopping can help prevent the risk of damage to property caused by high winds in 
areas around Adelaide.
3. Check roof and gutters
Ensure your roof is in good condition and free from loose tiles or vulnerable areas. Clean your gutters to prevent blockages, as heavy rain during high winds can cause water damage to your home's exterior.
4. Reinforce doors and windows
During a strong wind event, it is important to strengthen doors and windows with storm shutters or board them up with plywood to protect against high wind pressure and debris impact. This will ensure flying debris, such as brick and concrete, cannot break through glass and leave your home and family vulnerable to the dangers of sustained winds. 
5. Inspect fences and gates
Anchoring fences and gates securely is a critical measure to safeguard them against the force of high winds. Unsecured fences and gates can become vulnerable to damage or be blown over during severe weather events, posing risks to your property and safety.
6. Create an emergency kit
Assemble an emergency kit containing essentials like flashlights, batteries, first aid supplies, bottled water, and non-perishable food items. Be prepared for power outages if power lines go down and potential disruptions. It is best to be over prepared for emergencies and pack the essential supplies you need to stay safe. 
7. Stay informed
Keep an eye on weather forecasts and severe weather warnings. Sign up for emergency alerts on your phone to receive timely updates. Staying informed on wind advisory and wind warnings can help you become more prepared during a dangerous weather event. They also may provide you with more safety tips on safe evacuation routes and the dangers of the wind speeds. 
8. Identify safe rooms
Designating a safe room within your home is a crucial step in ensuring your family's safety during the peak of high winds or severe weather events. Ideally, choose a room on the ground floor or in the basement, as these locations offer added protection from the force of high winds.
When selecting a safe room, consider spaces that have minimal or no windows, as windows can be vulnerable to damage and debris impact during strong winds. Interior rooms, such as bathrooms or closets, can be suitable options.
9. Know evacuation routes
Familiarise yourself with evacuation routes in your area and have a plan in place for quick evacuation if necessary. Creating a well-thought-out evacuation plan is equally important. 
Sit down with your family or colleagues and discuss the best course of action in case of an evacuation order. Determine a meeting point outside the affected area where everyone can gather safely. Ensure that all family members or team members are aware of this plan and understand their roles and responsibilities during the evacuation process.
Be prepared with Just Skips
At Just Skips, we see the impact high winds in SA can have on families and businesses. We provide skip hire Adelaide to help clean up the mess severe weather conditions can leave behind. You can also order a general waste skip bin in Adelaide for affordable prices, so there is a skip bin for every waste disposal job. If you have any questions, contact us online today or give our friendly staff a call at (08) 8255 6677 for more information. 
FAQs
Can pine trees withstand high winds?
Pine trees can generally withstand moderate winds. However, older or weaker trees may be vulnerable to damage in extremely high winds.
Can palm trees withstand high winds?
Palm trees are quite flexible, tolerating moderate winds up to 80-95 km/h. However, they may suffer damage in severe tropical storms exceeding 110 km/h.
How do you prepare for 60 km winds?
How to prepare for 60 km winds:
Secure loose items

reinforce doors/windows

Trim trees

Check roof/gutters for any vulnerable areas

Create an emergency kit
What can 70 km winds damage?
Winds averaging at 70km can break and snap large trees and branches, dislodge housing and cause roofing to come apart.
What is considered high winds km?
High winds start from 40 km/h and can increase to 70 km/h and above.
People also read: