How to clean gutters: gutter maintenance checklist
No matter how modern your home is, or if you have state of the art roofing – regularly inspecting and maintaining your gutters and downspouts is a must. We have many tips on how to clean gutters and protect your home from nasty clogging situations. And of course we provide garden waste removal services so you can safely and easily dispose of your green waste in the process!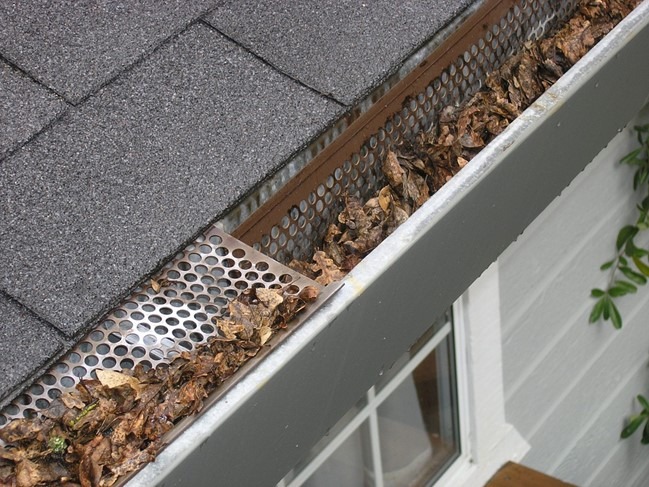 Inspecting and maintaining your guttering and downpipes should be carried out at least every six months, preferably at the end of autumn and spring. However, if you live by the ocean or near overhanging trees you should be looking to clean your gutters and downpipes more frequently. You should also consider some gutter cleaning before and after a big storm to clear your gutters from the debris that would have collected.
Overflowing gutters are the last thing you need, as they indicate that there is a serious problem with your home's water management system. Gutters with a build-up of dirt, leaves and debris will lose a large amount of their water carrying capacity causing them to overflow.
The consequences of overflowing, clogged gutters can be severe. You could be looking at flooded ceilings, damaged roof timbers, saturation of the internal walls and even damage to the foundations, if you avoid flushing the gutters of your home. Knowing how to clean gutters is therefore key to protecting your home and water management system.
How to clean gutters: checklist
Before starting, ensure you have a sturdy extension ladder, some rubber gloves, a gutter scoop and a bucket. For larger spring cleaning jobs, you may even want to hire a green waste skip bin if you'll be doing some landscaping too. Our skip bins are ideal for both your gutter debris and soil disposal!
Here's a simple checklist to help you maintain your home's gutters and downpipes:
Clear and remove the build-up of leaf matter, dirt and debris from your gutters. Clean gulleys and remove silt and debris.
With a garden hose wash down and remove all sludge and decaying leaf matter and check that your gutters are draining freely towards the downpipes or outlets.
Clean and remove any debris and dirt from your rainwater hoppers or sumps.
Check that your gutters are secure and leak free.
Clean all your downpipes. Downpipes should be cleared of any debris by inserting a water pressure hose down (from the top) each downpipe.
Check that your downpipes are secure and leak free. And also check to see if they need repainting,
Clean out the above ground gullies and drainage channels. Make sure that your gullies catch all the water from the downpipe.
Take a look at your manholes, inspection chambers and outlets and make sure they're clear and in good condition.
Inspect all your drains and make sure they're clear. If not, clear any blockages using a drain rod.
By following the above checklist your gutters and downpipes will be free to do what they do best this summer, keeping your home's roof in tip top shape! Remember to always wear rubber work gloves to protect your hands when cleaning your gutters, since they can often have sharp metal parts or screw points sticking out into their troughs.
One last important tip for keeping your gutters clean is to install gutter guards if you haven't already. Gutter guards protect your gutters from the possibility of clogs so your gutters can function well for years to come! Staying on top of your roof repairs is also important for keeping your gutters clear. Broken tiles and worn out paint can also clog your water pipes so if you're undergoing a roof maintenance job, don't forget to give your gutters a clear out at the end.
Whether you're doing some spring cleaning or taking care of the aftermath of a winter storm – knowing how to clean gutters properly is essential! It's especially important in the warmer months, when you're at risk of bushfire season. And don't forget to contact your local skip bin hire service for those larger roof repair and gardening tasks. Also check out the latest blogs about the importance of recycling e waste, the best things to do at home when you're bored and what can go in a skip bin.