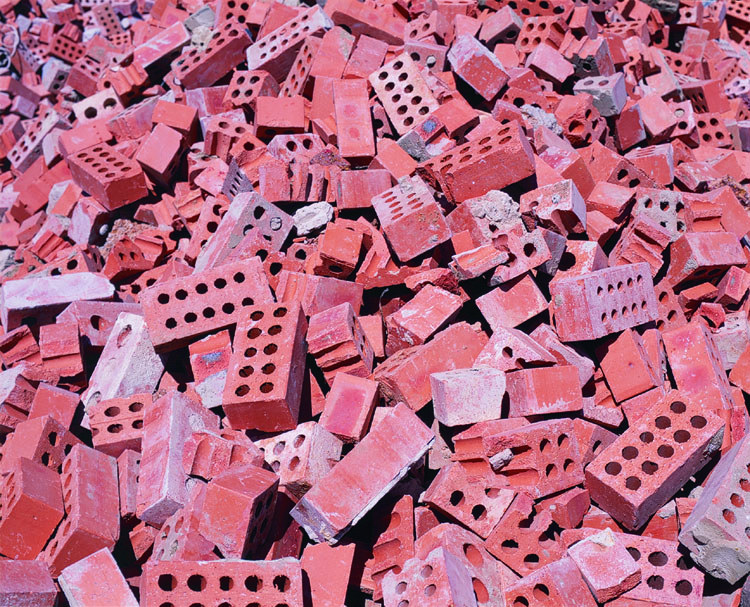 How To Dispose Of Old Bricks
If you've recently completed a construction project, you may have some leftover bricks. Old building materials such as brick and concrete can pile up quickly, that's why the majority of construction waste ends up in landfill. But it doesn't have to be that way. Read on to learn how to dispose of old bricks.
Overview:
What are bricks?
Bricks are rectangular pieces of lightweight rock that are traditionally made out of clay or concrete mixed with calcium. Machiches are used to create their universal shape and ensure durability. They are a popular construction material as they are strong, reusable, economical for building designs, resistant to pests and fire, and safe from contaminants. Bricks can also be broken down and reformed if needed.
Can you recycle bricks?
As bricks are made out of natural materials such as concrete, lime, sand and ash, they can be recycled. Eventually these materials can break down and disintegrate, without causing any harm to the environment. However, please be mindful that you cannot take old bricks to a recycling centre as these are used for household items like bottles and cardboard.
How to dispose of old bricks: 3 ways
Whether you're undertaking a construction project or a home renovation, you're probably wondering about how you can dispose of your bricks. There are many disposal methods to choose from below:
1. Hire a skip bin
One of the easiest and most cost-effective ways to dispose of your old bricks is to hire a skip bin. We have outlined the process below:
Choose the right skip bin
It can be hard choosing the right skip bin for your needs. Instead of just throwing your leftover materials in a general waste skip bin, you can opt for a brick and concrete skip bin. You can schedule a delivery time that's convenient for you and fill your skip bin as you go!
Depending on the size of your project, you can choose between 3 different skip bin sizes:
What can go in a construction waste skip bin?
While you're throwing away your old bricks, you can also dispose of your other construction waste materials at the same time. Construction waste materials can include:
Bricks
Crushed concrete
Ceramic floor and roof tiles
Pavers
Ceramics such as sinks and toilets
Pack your skip bin
To get the most out of hiring a skip bin we recommend packing it correctly and efficiently. You can do this by breaking down bigger pieces of waste and compacting everything tightly together.
When packing, you should also be aware of the weight limits. For our 9 cubic metre bins, only fill them 3 quarters up. Our 4 and 6 cubic metre bins can be filled to the top. However, please avoid overfilling the bins as this can lead to injuries for anyone coming into contact with the bin.
2. Go to your local landfill
If you're working with a construction company, most likely you will have trucks or a large vehicle that can be used to transport your leftover materials to local landfills. If you don't have a vehicle, a truck can always be hired to transfer the materials. Taking your materials to landfill is only a good option if you have a small pile of leftover construction waste.
Although this is a low cost option, please keep in mind that landfill sites produce harmful gases which can have detrimental effects on the environment.
3. Reuse them for future projects
If you have any future construction projects, reusing your old bricks is a great, environmentally friendly option. Here are some of the ways bricks can be recycled:
Old bricks that are still in good condition can be cleaned and reused for future construction projects.
Bricks can be crushed into chips or finer materials to be used in construction road base, drainage materials and filling sand or new bricks.
Use them for DIY projects around the garden such as raised garden beds, pathways and a fire pit.
Dispose of your old bricks with Just Skips
Now that you know how to dispose of your old bricks, it's the perfect time to hire a skip bin in Adelaide. The friendly team at Just Skips are here to help with all your construction waste removal needs.
We also offer skip bins for other waste types such as green waste and E-waste. If you have any questions about your construction and demolition waste, do not hesitate to contact us online. You can also call us on (08) 8255 6677.
How to dispose of old bricks : Other FAQs
Can you put bricks in the general waste bin?
To avoid any fees, you should not be disposing of old bricks in your local council bin or a general waste skip bin. This is because your bricks may contain hazardous materials such as asbestos and lead. The best option is to hire a skip bin for brick and concrete waste so the professionals can take your materials to a special disposal site.
How many bricks can go in a skip bin?
It all depends on the skip bin size you choose. For a larger project we recommend choosing the 9m³ where you can fill your bricks up to 3 quarters. For smaller projects, you can choose between a 4m³ or 6m³ skip bin and fill your bricks to the top.
People also read: