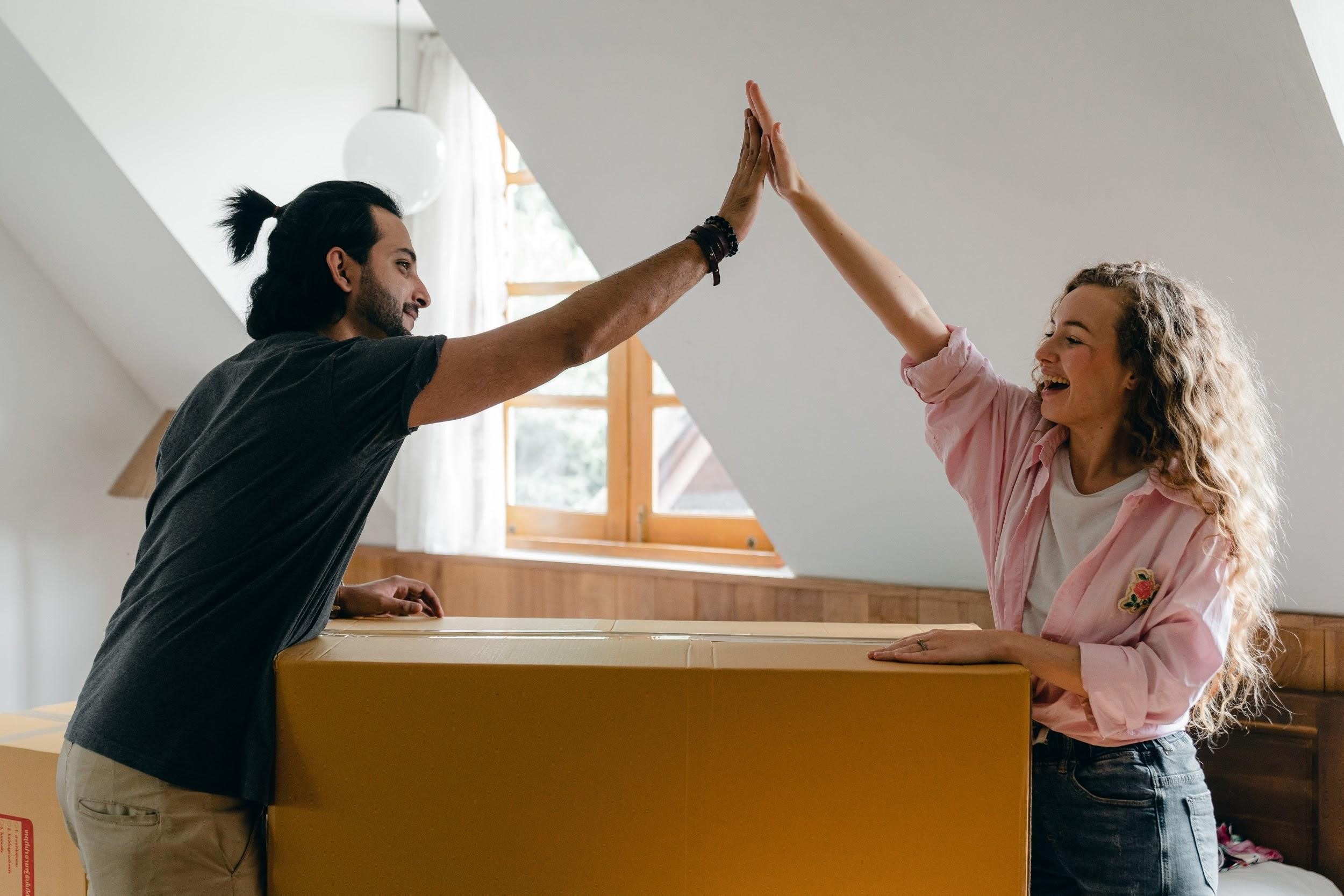 The only moving out of home checklist you'll need
So, you've decided to fly the nest. Be it with a friend or your partner, moving out of home for the first time is incredibly exciting (and stressful)! From signing the lease and sorting out your utilities, to hiring a skip to get rid of all your old junk, there's lots to organise. But the best way to ensure you have a stress free move is to prepare.
To get you started, we've put together the ultimate moving out of home checklist. It covers things you should do before/during/after the move and the essential things you need when moving out of your parent's house. Let's get into it.
Overview:
Moving out of home checklist
When it comes to a successful move, preparation is key – and that's where our moving out of home checklist comes in.
Before the move
1. Organise your utilities
Before the big day, make sure you set up the following:
Electricity
Gas (if needed)
Internet
Home and contents insurance*
* If you're renting, the landlord might already have home insurance. So you'll just need to sort out contents insurance.
2. Buy the big pieces of furniture early
When you're moving out of your parent's house, you'll probably be getting most of your big furniture delivered. As soon as you know your move in date, start looking at getting a fridge and a couch.
Get the fridge to be delivered either the day you get the keys or the day after. We also recommend getting the couch delivered the week of moving in too, because you can only live on bean bags for so long.
3. Plan how you're going to move your stuff
Are you hiring a removalist? Or hiring a truck/trailer to do the move yourself (and maybe with some family and friends)? To determine this, you'll need to work out how much stuff you have and then budget accordingly.
4. Get rid of your junk
When it comes to the moving day, the less you have to move, the better. So before you begin packing, do a giant clear out of the stuff you haven't used in years or things you won't need in the new house.
If you've got a lot of junk, we highly recommend looking into mini skip hire or hiring a 6m3 general waste skip bin. This way, you can get rid of everything in one go!
5. Start boxing up your belongings earlier than later
Don't leave the packing till the night before. Once you know you got the place, it's a good idea to start packing up sections of your room one by one. It might just be a bookshelf one night and your bathroom stuff another, but it will add up slowly.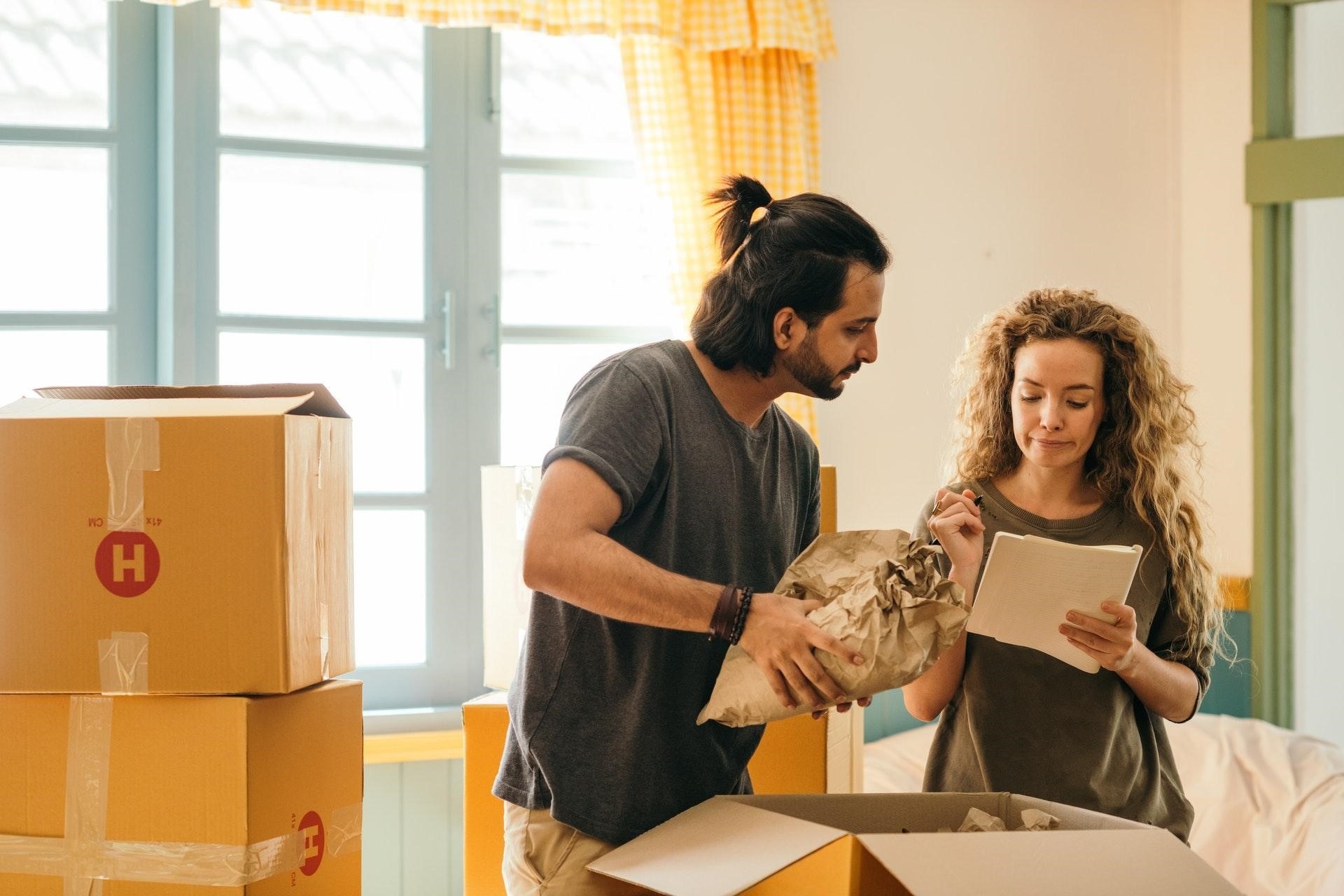 During the move
6. Get your bed & kitchen set up first
The very last thing anyone wants to do after a whole day of moving, is to make their bed. So the minute you've got all of your boxes in the house, set your bed up in your bedroom.
Once you've done this, you'll want to roughly organise your kitchen too. We say "roughly" because you'll probably change the layout of your kitchen a few times in the first couple of weeks. As long as your fridge is plugged in, you have access to drinking water, cups, bowls/plates and cutlery – you're set.
7. Try put the right boxes in the right rooms
While packing your stuff, we recommend labelling the boxes by room and contents. That way during the big move, you can just create a pile of boxes in each room. Doing so can help with the unpacking process too!
After the move
8. Change your address
In South Australia, you have 2 weeks to change your residential address on your licence. In addition to this, you also need to change your address for things like:
Car insurance
Banks
Electoral Office
Doctor, vet etc.
Club memberships
Anywhere you get bills from
You can also easily redirect your mail for a month through Australia Post just in case.
9. Clear up the garden
Once you're done with the Ikea trips and you've ticked off most of the items on our moving out of home checklist, we recommend doing some gardening. This is especially important if a) you have pets that go outside, and b) the previous owners/tenants didn't mow the lawn before they vacated.
And if the garden doesn't seem like it's been tended to in a long time, opt for hiring a green waste skip bin. It's a super quick and easy way to get rid of your excess green waste, and it saves you from filling up the green bin and waiting for it to be emptied each time.
What household items do you need to move out? A list by each room
Bedroom
bed
bedside tables
wardrobe/dresser if there isn't an inbuilt wardrobe
quilt, bedsheets & pillows
lamp
Bathroom
towels
bathmat
hand soap
toilet paper
toilet paper holder & toilet brush
Laundry/cleaning
washing machine (your new place may have it. You can also use a laundromat for the first few months too)
laundry basket & washing basket
hand soap
mop & vacuum
dust pan & broom
washing powder & pegs
stain remover
surface/glass/floor cleaner
toilet cleaning supplies
Kitchen
fridge
plates & bowls (including mixing/salad bowls)
chopping boards
oven mitts
water glasses & mugs
microwave, kettle & toaster
bin & bin bags
tea towels
clingwrap, baking paper & foil
sponges & detergent
cutlery & knives
utensils (whisk, wooden spoon, spatula, tongs, measuring cups, can opener, grater, peeler etc.)
oven pans
pots & pans
water jug (especially a filtered one if your new place doesn't have a Puratap)
placemats & coasters
Living room
couch
coffee table
TV & TV unit
General (things you often forget about)
door mat
lighter/matches
scissors
batteries
tool kit
first aid kit
Keep in mind, this is only a general list of the things you need when moving out of your parent's home. You may have a home office/study you need to think about, or pet food/supplies if you have a pet!
We recommend going through each room of your parent's house and noting down what you see, and then use our moving out of home checklist as your guide.
And that's it,  the ultimate moving out of home checklist! We wish you all the best for the big move – and if you need any help with getting rid of your excess waste or about our skip bin prices, don't hesitate to get in touch with one of our friendly team members!
You may also like: