How To Clear Out a Garden
Tackling an overgrown garden can be intimidating if it's been a long time since there was last a clear out. Sometimes it is a daunting task that takes a little more than weed killer! We want you to feel happy that the entirety of your home is in tip top shape, so we've created this handy explainer on how to clear out a garden—even if it's an overgrown jungle. Tackling some much needed green waste disposal and getting your garden looking brand new will have you feeling like your home is an oasis once again.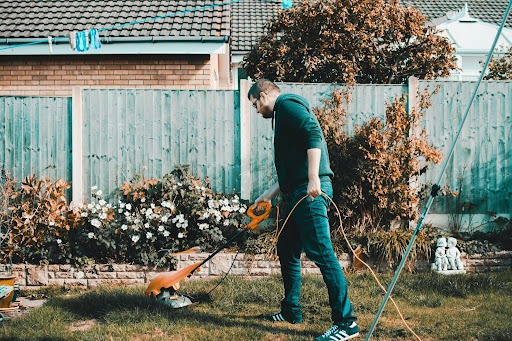 Overview:
So, what is the best way to clear an overgrown garden?
Before you start digging out your garden and covering the area in fresh lawn, it's important to go in with a plan. Even the most overgrown yards can be rectified if you know exactly how to clear out a garden. Follow these 7 easy steps and you'll be on top of things in no time. 
How to clear out a garden
Clear out any rubbish 
If things have truly gotten out of hand, there may be more than just sand, dirt and soil waste spilling through your yard. If there is other debris through your yard, like brick & concrete for disposal, or even if you're needing general waste disposal, then this is your first port of call when looking at how to clear out a garden. 
Gather up all of your rubbish in categorised piles, so you can focus on the garden itself. 
Hire a skip bin 
There are skip bins for all sorts of waste types, so if you're looking at a full clear out of an overgrown yard then a skip bin will be your best answer. This means all you have to worry about is the job in front of you—no stopping to go to the dump or waiting for your green bin to be cleared. 
Break it down into sections 
Restoring a neglected garden is daunting, but it doesn't have to be. One of the most vital steps when looking at how to clear out a garden is breaking it down into sections and working from there. Divide the job into: front yard, sides of the house, and depending on the size of your backyard you can break it down into halves or quarters. From here it will be easier to digest the job at hand. 
Identify the plants you want to keep 
Before you start pulling out weeds and dead plants it's important to identify what you want to keep and what might be beneficial to leave in your yard. Once things are overgrown, it's easy to get lost in the crowd of greenery so it's important to have any plants you want to keep on your radar in order to avoid any mistakes. Take a look at the climate and weather conditions of your location, there may be plants in your yard that play a vital role in the ecosystem around you. 
There may also be plants that are perfect for your future yard vision, so make sure these are salvaged to avoid forking out for new plants. 
Remove weeds and dead plants 
Now that you have a clear idea of what can stay and what can go, you can get to removing the weeds and other debris. 
Make sure your skip bin is ready for this stage as a regular green bin will fill up alarmingly fast and you don't want to have to stop once you've gotten started. Landscaping and garden waste removal can be made easy if you have the right resources at your disposal. Simply hire a skip bin for your designated dates, and you can keep your mind focussed on how to clear out the garden. 
Dig up the tougher to clear areas 
The key thing about clearing a garden jungle is understanding that it's going to involve some hard graft! This might mean digging up tree stumps, overgrown flower beds, and turning over old soil. This gets rid of those hard to pull weeds and also gets the soil ready for new plants by improving the texture. 
Find a place for what remains
Now that you've sorted the plants you want to keep, dug out the weeds and cleared the clutter, you need to lay out what your new yard will look like. In order to avoid the yard falling into chaos again, it's best to have a clear idea of what plants go where, where new seeds will be sown and where garden decorations will feature. 
How much does it cost to clear an overgrown garden?
There may be a few costs associated with clearing out an overgrown garden. You will need to factor in pricing for things like: 
Tools

New plants 

Fertiliser 

Landscapers if it's a particularly large job.
You will also need to factor in the price of a skip bin. Luckily, at Just Skips, we offer affordable prices for the Adelaide metro region, so your money can go even further. Our skip bin prices start at just $250, depending on your skip bin size! 
So, there you have it, 7 easy steps on how to clear out a garden!  If you have any questions about this blog or green waste removal in general, our friendly team is here to answer all of your questions. You can call us on (08) 8255 6677 or via our online form.
You might also like: