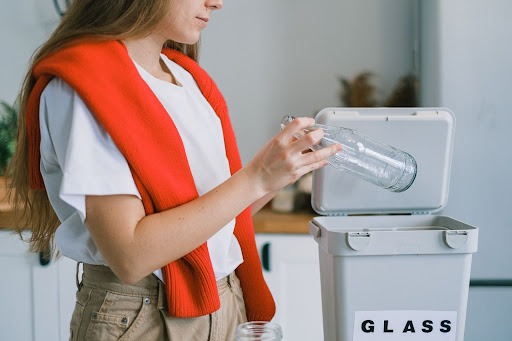 How To Improve Waste Management – 7 Tips
As the mass production of material goods continues to increase, so too does the amount of excessive waste. Australians generate over 76 million tonnes of green and general waste every year, according to the Australian Bureau of Statistics. This significant amount of waste is causing detrimental effects on the environment, so it's important to implement effective and responsible waste disposal. In this blog, we have listed our top 7 tips on how to improve waste management. Read on to learn more.
Overview:
Why is it important to reduce waste?
Many of us do the right thing by separating our waste and taking out the bins on the correct days, but some people avoid this, which has a huge impact on the environment. Reducing waste is important for several reasons, including:
Reducing pollution: Due to the mixed waste in landfills, toxic greenhouse gas emissions are constantly being released into the atmosphere. This contributes to climate change which then negatively impacts our planet and all living beings.
Conserving landfill space: With increased waste, the need to build more landfill spaces is needed. This is a waste of valuable space which could be used for more beneficial purposes (such as planting trees).
Saving energy: Manufacturing goods requires a lot of resources and energy – but when we recycle, we reduce (and sometimes even eliminate) the need to make items from scratch, which saves our precious energy and resources.
Better future: By practising proper waste management solutions such as reusing and recycling, we will help to build a more sustainable future.
How to improve waste management – 7 tips
1. Separate your waste
Many people still aren't aware of how to properly separate their waste at home, which can be a waste of precious resources.
Garbage bin
Some people just throw all their waste in the garbage bin as it seems like the easiest option. You should only put the following things in your garbage bin:
General household waste
Soft plastics
Ceramic, china and pottery
Styrofoam and polystyrene
Drinking and oven-proof glass
Light bulbs and mirrors
Clothing that is unable to be donated
Single use cups and plates
Recycling bin
It's important to make use of your recycling bin as these items can be reused to create future goods. Things that can go in your recycling bin include:
Paper, magazines, newspaper
Cardboard
Hard plastic (rinsed)
Glass bottles and jars (rinsed)
Milk cartons
Empty aerosol cans
Metal pots and pans
Plastic toys
Aluminium trays (rinsed)
Green bin
You should also be using your green waste bin to its full potential as organic waste will eventually turn into compost, which can be used to help improve the quality of soil. You should put the following in your green bin:
Food scraps
Tea bags and coffee grounds
Tissues, paper towels and serviettes
Shredded paper and cardboard
Hair and nail clippings
Pet waste
Garden waste such as grass clippings, plants and branches
Learn more: What can go in the green bin in Adelaide?
Have too much waste for your garbage bins?
If you've run into the issue of having too much waste to fit into your council bins, another great tip for how to improve your waste management is by hiring a skip bin. Skip bins are an easy solution to get rid of all your waste in one go! Depending on your needs, there's different skip bins for general waste, green waste, bricks and concrete waste, and more. You can also choose from a range of skip bin sizes to make things more convenient, these include 4m³, 6m³ and 9m³.
2. Reuse and recycle
Before purchasing new things, you should always try to reuse old ones. If you have something you no longer want, you can always offer it to friends or family, or even sell it online on Facebook Marketplace or Gumtree.
If no one is willing to take your waste, make sure you separate it in the right garbage bin. If you need to recycle your waste, you can either pop it into your recycling bin or take it to your local recycling site. Some sites will offer recycling loads for free or for a small fee.
Also make sure to remove any soft plastics or non-recyclable materials before taking them to the recycling depot.
3. Learn how to compost
Instead of just throwing your organic waste away, you can always convert it into compost. According to the International Compost Awareness Week Australia, 50% of Australia's waste can go towards garden compost.
If you don't know already, composting is the process of breaking down organic matter to recycle vital nutrients that can be used to improve the quality of other soil. This nutritious soil can then be used to support the future growth of things such as vegetables and other plants.
Learn more: Home composting: how to compost garden waste
4. Use sustainable items
Try to take advantage of as many reusable items as you can, as opposed to buying single-use items like plastic bags and bottles. Some eco-friendly reusable purchases include water bottles, coffee cups, grocery bags, produce bags, containers, metal straws, plates and cutlery, and reusable food wrappers.
Whilst many bottles and cans are recyclable, it's best to avoid contributing to waste all together with reusable items.
5. Purchase second-hand items
Before going to buy some new items, consider buying something second hand. Not only will this save you money, but it will help to reduce your waste, whilst going towards a good cause (if you purchase from an op-shop).
You can buy plenty of valuable items from the op shop, including clothes, furniture, accessories, toys and more. You can also browse Facebook Marketplace and Gumtree for some good bargains.
6. Shop locally and buy in bulk
Instead of buying the majority of your produce from the supermarket, try supporting your local farmers market. Not only will you be supporting your local farmers, but you will also be receiving better quality ingredients. They also rely less on packaging and are often happy to take your old packaging for future use. Most markets will also run special offers where you can buy produce in bulk as well.
Just make sure to be prepared with some containers and reusable produce bags!
7. Reduce paper usage
It's easy to access everything digitally these days, meaning we can avoid using paper as much as possible. Some easy ways to reduce the amount of paper your use is to:
Opt for e-receipts
Choose digital subscriptions for news and magazines
Remove any printers
Takes notes on your phone or laptop
Use an online storage service for documents
Stay on top of your waste management with Just Skips
And there you have it, our top 7 tips for how to improve waste management. To help keep the planet healthy for us and the next generation, it's important to implement these environmentally friendly steps into your life!
At Just Skips, we take our waste disposal very seriously. When you hire a skip, you can be confident that we're looking after both you and the environment. We offer skip bins for different waste types, including general waste, green waste, dirt, sand and soil, as well as bricks and concrete. If you have any questions about waste management or our skip bin hire prices, please do not hesitate to contact us today.
How to improve waste management: Other FAQs
How can we improve waste management in the community?
The best way to improve waste management in the community is to:
Have access to bins sorted by waste type
Compost organic waste in a community garden
Go to your local recycling site
Access to shops that provide reusable items
Access to op-shops
How can consumers reduce waste?
One of the best ways to prevent waste disposal as a consumer is to pre-plan your shopping lists and meals to avoid any unnecessary purchases. Overshopping can lead to excessive food waste and wastage of valuable goods, which is both costly and environmentally damaging.
People also read: