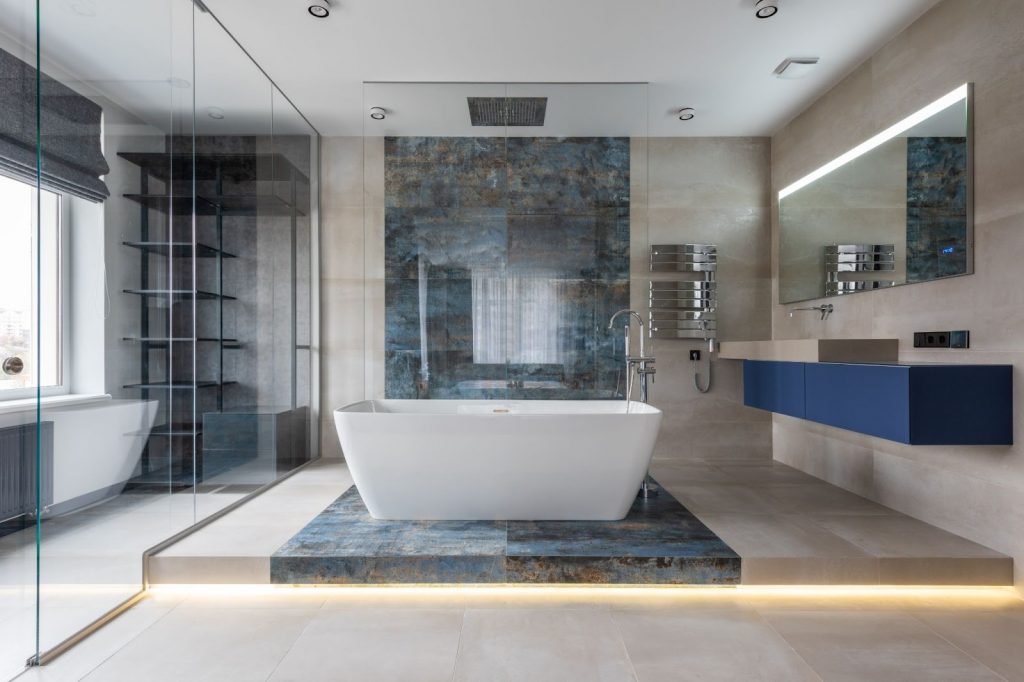 How To Renovate A Bathroom
Looking for inspiration on how to renovate a bathroom? Updating your bathroom will not only make it look aesthetically pleasing, it'll make you feel like a million bucks every time you use it.  To get you started, we've put together this short guide on how to renovate a bathroom, with tips on how to stick to a budget and how to stay on top of your renovation waste. Read on to learn more.
Overview:
Tools & equipment needed for  DIY renovation
Before you begin any renovations, you need to make sure you have all the correct tools and equipment. We've listed out some of the most common ones below, but keep in mind that it'll ultimately depend on the renovation project you have in mind.
Hammer
Caulking gun
Tape
Spackle
Chisel
Utility knife
Extension cord
Power drill
Pry bar
Hacksaw
Goggles
Glove
Adjustable wrench
Safety mask
Silicon sealant
Bucket
Chalk line
A skip bin for waste
How to renovate a bathroom in 7 easy steps
Step 1: Design your bathroom
Before you begin working on the actual renovations, you need to create a plan. Think about what you want in your updated bathroom. More storage? A bigger bath? Or a complete overhaul? Mapping everything out will not only make the renovation process easier, it'll help you stick to a budget too. It's also important that you consider where your plumbing is located. Plan your new fixtures around this since changing the plumbing of the house can come at a hefty cost. Small mistakes, like bursting a pipe, can also cost you large sums of money.
Step 2: Remove the fixtures
Once your plan is in place, start by turning off the water and draining the toilet to avoid any unpleasant water spills. Then remove the fixtures you want to replace (e.g. bathtub, toilet or sink). This will clear up the space for your new fixtures. Then remove the cabinets, mirrors, wall and floor tiles. At this stage, we highly recommend hiring a brick and concrete skip bin so you can stay on top of all your waste.
Step 3: Install new fixtures and fittings
Now you've got a clean slate, it's time to start installing your new fixtures! This is where you can install your new sink, bathtub, shower or toilet. These days, many homeowners prefer having only walk-in showers, but you should also consider installing a bath if you have the space. Having both a shower and a bathtub can increase the resale value of your home.
Step 4: Install floor tiles
Once you have your fixtures in place, you can start installing your floor tiles. Be sure to mark where the tiles will be placed. This simple step will help you avoid having uneven tiles in the bathroom!
Learn more: how to update old tile floors
Step 5: Install walls and begin painting
The next step in the renovation process is to install your walls and paint them. This might include completely redoing the walls or just adding in dividing sections.
Once your walls are ready, you can begin adding colour to your bathroom. Choose a moisture resistant paint for the walls to avoid mould and mildew growth.
Budget tip: if the walls in your bathroom are in good condition and you want to save a bit of money, consider just giving the paint a refresh instead of completely redoing the walls. This can still make a huge difference to the look of your bathroom!
Step 6: Install mirrors and cabinets
Once the paint has dried, you can install your cabinets and mirrors. At this stage, you can install decor and furnishings to personalise the space as well.
Step 7: Ensure all plumbing is connected
By now, your renovation project should start to resemble a bathroom. Before you open it for use, ensure that all your plumbing is connected and there are no drips/leakages. And voila! You have a fully functional, remodelled bathroom.
Just Skips is here to help
And there you have it, everything you need to know about how to renovate a bathroom. Whether you're planning on completely changing your bathroom or just doing a few updates, hiring a skip bin is the best way to stay on top of your waste. At Just skips, we offer affordable prices and three skip bin sizes to suit your needs.
Order a skip bin online today or speak to our team if you have any questions.
FAQs about how to renovate a bathroom
How much does it cost to renovate a bathroom?
The cost of renovating your bathroom can depend on a few different factors. These include the size of the bathroom, quality of fittings, contractors used and the structural changes required. It also depends on if you are renovating the full bathroom or only a few aspects. We've broken it down for you below:
$5,000 – $15,000
The cost of your renovation will fall in this range if you are installing basic fixtures, implementing small structural changes and if the size of the bathroom is small.
$15,000 – $30,000
This budget will allow mid-range fittings for a small to average sized bathroom space. There can also be room in this budget for making some structural plumbing changes.
> $30000
In this budget, you can make structural changes to your bathroom and  incorporate premium fittings and decor for your bathroom.
When remodelling a bathroom, what should you do first?
The first step is to remove old fixtures. If you are only renovating part of the bathroom, only remove the fixture you want to replace. This process can create a lot of waste so make sure to hire a skip bin.
Is renovating a bathroom difficult?
A bathroom remodel is one of the more challenging home renovation projects. This is because it often involves a lot of plumbing and electrical work – which all generally require professionals to do the job. However, the task of remodelling a bathroom yourself is not impossible. If you have previous experience in trades work and the right tools, you could remodel the bathroom on your own.
How to budget a bathroom renovation under $5000?
A DIY bathroom can be achieved under $5000. Below are a few ways  renovate your  bathroom under a strict budget –
Apply wallpaper or paint ~ $100
Change the floorboards ~ $170
Install lighting ~ $600
Mount a premium shower head ~ $300
Change the mirror and vanity ~ $1000
People also liked: