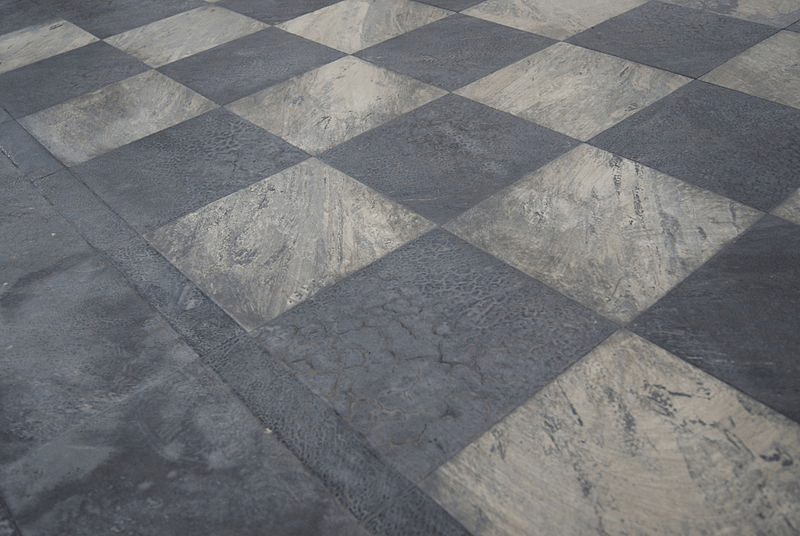 How To Update Old Tile Floors
Maybe you've been in your house for a while and it's time for a refresh. Perhaps you've just bought a house, and the home decor is looking a little too dated for your sophisticated, modern tastes. Whatever the reason, updating your tiles can be a super simple way to transform your home.
But how do you go about doing it? Can it be done on a budget? To help get you started, we've put together this quick guide on how to update old tile floors. Read on for our top 4 tips and how you can use renovation waste removal to stay on top of any mess you create.
Overview:
How to update old tile floors: 4 tips
1. Clean with a surface or grout cleaner
If your tiles aren't damaged and simply need a bit of TLC, clean them with some grout cleaner, surface cleaner and a lot of elbow grease. This will have your old tile floor looking like new. You'll be surprised at the difference a grout cleaner can make – it's one of the simplest and cheapest ways to refresh an area!
2. Roll out a rug or carpet
Another easy way to update your old tiles is to buy a rug. Simple and effective, you can find cheap rugs second hand on Gumtree or Facebook Marketplace. You can also spend a lot if you fall into the high-quality, Persian rug rabbithole!
Carpet is another great option. It keeps you warm when you're barefoot in winter and covers more of your tiles than a rug might be able to. It can transform a cold feeling area into a snug and cosy room. With a huge variety of fibres, colours and textures, carpet is an excellent way to update your old tiles.
3. Vinyl flooring
The next option is to pick some trendy vinyl flooring and put it over your old tiles! Vinyl is affordable, easy to clean and is great underfoot. Want a more budget or rental-friendly option? Try peel and stick vinyl tiles. These are super simple to install and can be a great way to temporarily remodel the place you're in if the current flooring doesn't fit your design needs.
4. Paint
Our last tip on how to update old tiles is to paint them. With the right choice of paint, you can dramatically change the look and feel of a room. It's a bit more effort than the other options, because you might need special equipment like a floor sander to prepare the surface before you start.
Consider the room before you start
When you're learning how to update old tile floors, it's really important you're considering which room you'll be giving the makeover to and what sort of use it gets.  What's going to be appropriate for the kitchen might not be appropriate for the lounge room.
Kitchen
The kitchen is an area that will receive a lot of traffic. Trips to the fridge will eventually wear away painted floors and carpet, and don't forget food spills around the stove. We recommend you pick something hard wearing and easy to clean. Vinyl flooring, not as tough as other materials, has the benefit of dampening sound – dropping a heavy pot won't wake up the house!
Bathroom
The bathroom is the favourite place to start for many home renovators. Because it's an area that is constantly wet, you should definitely avoid carpet! Painted ceramic tiles might seem like a good idea, but moisture can get into the tiles and make your paint bubble. Stick to hard, easy to mop tiles and you'll be golden.
Lounge Room
The place we go to relax, the lounge is a great area to lay your favourite carpets and rugs. Warm underfoot, carpets and rugs also soak up a bit of sound, so you can relax in peace. Because there's not too much walking or risk of water spills, this might be the right spot to paint your tiles.
Updating tiles vs ripping them up
Updating your tiles is the easiest route, because it involves leaving the tiles you've got in place and simply updating the surface. Removing the old tiles and replacing them with something brand new, on the other hand, can be more expensive and time-consuming. However, it is ultimately up to your personal preference! Removing the old flooring does give you more freedom to install whatever you like – like hardwood flooring or Italian slate.
How to dispose of old tiles
If you've decided to rip up the old tiles, you'll need a way to dispose of them
To avoid piles and piles of old tiles, use skip bin hire in Adelaide so you can stay on top of your waste. No matter the size of your renovation job, Just Skips can help you find a place for your DIY discards. You fill it up and we'll take it away!
Learn more: skip bin prices
All of the waste we collect is also taken to a licenced sorting facility, where useful materials are recovered for reuse. So you can  feel secure knowing that your rubbish has been dealt with in the greenest way possible.
Learn more: environmental skip hire
FAQ about how to update old tiles
How can I make my old tile floor look better?
You can clean, paint or cover your existing tile floor to make it look like a new one! Check out our tips above.
Can ceramic floor tile be painted?
It sure can. You'll need to prepare the surface by cleaning it, fixing any broken tiles, and possibly sanding it down with some special equipment. Just keep in mind that if your floor often gets wet or has lots of wear, the paint will rub off or bubble.
Can you put flooring over tile?
If it's in good shape you can. Just make sure you clean it first, and then you can lay laminate flooring or a pre prepared hardwood.
Can you put peel and stick tile over ceramic tile?
Absolutely. You'll need to clean the tiles first (to give the adhesive the best chance to stay put). After that, go for it!
People also liked: