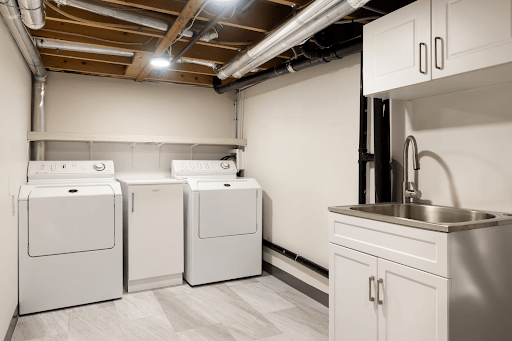 How To Renovate Your Laundry
When you think of home renovations, the laundry isn't the first room that comes to mind. However, as one of the most used rooms in the house, it's worth not leaving this one on the bottom of the priority list. With just a few easy steps, you can learn how to renovate your laundry (even if you're on a budget). Read on to get all our best tips and tricks with our complete laundry renovation checklist and how you can stop on top of your renovation waste.
Overview:
Design your ideal laundry room
Set a budget
Purchase all fixtures and fittings
Prepare for the renovation
Demolish your laundry
Install all fixtures and fittings
How to renovate your laundry: 6 steps
1. Design your ideal laundry room
Before getting too excited and purchasing all your fittings, you will need to plan out and design your ideal laundry room. First you will need to consider how much space you have and everything you would like to keep or replace. You may even want to draw up a renovation floor plan to help get you started. When planning your floor plan, remember to make it as simple and low maintenance as possible so it will not only be easier to renovate but also easier to use. It may help to think about how you do laundry when laying out the floor plan.
There are a variety of different laundry design ideas you can go for. When it comes to choosing your ideal design, we have some handy tips:
If you have a small laundry, opt for lighter tones when choosing paints, fixtures and fittings to open up the space.
Plan to include tall storage space for things like cleaning supplies, brooms, vacuums, towels and more.
Make sure you plan enough bench space into your floor plan. This also helps with making the room feel more open.
2. Set a budget
The next step is to set a budget. The average DIY laundry renovation costs range from $2,000 to $4,000. However, if you opt for a professional renovation, you can expect to pay anywhere from $10,000 to $19,000. This price will include the cost of tools, waste removal, upper and lower cabinets, countertops, appliances and decorations.
Use this budget as you start researching your materials. We recommend picking out the essentials first such as countertops, flooring, appliances and any tools to make sure these fit into your budget. You will also need to factor in labour costs if you're planning to get professional help from plumbers, electricians, carpenters, painters and flooring installers. As there will be a lot of leftover waste, you will need to organise a renovation waste removal plan for your different waste types. Then you can use the remaining budget to purchase room decor.
If you're unsure which tools you should purchase, we've made a list below for each part of the renovation job:
Cabinet removal:
Countertop removal:

Power drill
Razor knife
Hammer
Paint scraper
Screwdriver
Caulk softener

Sink removal:

Chisel
Putty knife
Caulk softener

Floor removal:

Hammer
Paint scraper
Putty knife
Pliers
Chisel
Pry bar
Mallet
Tile tools
3. Purchase all fixtures and fittings
Now, you've reached the fun part – choosing all your fixtures and fittings! This is also the perfect time to test paint swatches and choose the right paint for your laundry. Many hardware stores also have books to show what's currently trending which may inspire your paint choices.
New flooring, cabinets and tapware will instantly transform your laundry. Just keep in mind that you will need flooring that is durable and suitable for wet areas. Vinyl flooring, timber boards and concrete tiles are a great choice for laundry renovations on a budget. If you have a larger budget, you have more range, just ensure they're durable and neutral in colour.
4. Prepare for the renovation
Next, you will need to prepare the room for demolition. Place a plastic sheet over the doorway to prevent any dust from travelling outside the room. You will also need to cover any air ducts that connect to other rooms.
You will also need to organise a solution for all your leftover waste. One of the best renovation waste removal options is to hire a skip bin. We recommend hiring a brick and concrete skip bin for all your renovation waste. However, if you have any other waste such as empty (dry) paint cans, metal waste, glass or electronic appliances, then we recommend opting for a general waste skip bin. You can also choose from different sizes, including the 4m³, 6m³ and 9m³, depending on how much waste you have.
5. Demolish your laundry
Now that you have prepared your space for demolition, you can grab your tools and begin! Remove the bulky items first, such as your washer and dryer, (especially if you're planning to sell them). You can hire a professional for this part or uninstall your washer and dryer on your own.
Once these have been removed, you can continue on and uninstall your cabinets, sinks, countertops and floorboards. These jobs are easier with two people, so make sure you have some helping hands whilst doing these.
6. Install all fixtures and fittings
When it comes to installing all your new fixtures and fittings, we recommend following a certain order to make things easier.
New floorsThis should be the first step in the renovation process. Depending on the type of flooring you purchased, you should always research how to install it and make sure you have all the right tools. If this task seems too difficult you should hire a professional.
Install cabinets and sinksBefore placing your countertops and mounting your cabinets, you want to ensure you leave enough space work in the room. You should also keep your cabinets close to your electrical applications so you can easily grab washing supplies whilst you're working. If you are unable to install any of your cabinets, sinks and countertops, you can always hire a professional for this part.
Paint wallsBefore painting your walls, you will need to prepare your walls and surfaces by cleaning any dust off, sanding the walls and applying your painting tape around powerpoints, windows and cabinets. If you're painting your cabinets, then we recommend cleaning them off and applying a primer before painting for the best application.
Install appliancesOnce your paint has dried, you can begin to install your washing machine and dryer. Just ensure you leave a small gap around your appliances in case you need to remove them at any point. You may also want to leave some room in front and around the appliances to make space for opening the doors.
Just Skips is here to help
Now that you know how to renovate your laundry, it's the perfect time to get started! No matter the renovation project you're planning, Just Skips are here to help with all your waste disposal needs. We offer affordable skip bin prices, starting from just $250. We also have a range of skip bins for your different waste types, from green waste to sand, dirt and soil removal, and more! Order a skip bin online from Just Skips today.
How to renovate your laundry: FAQs
How do you renovate your laundry on a budget?
Laundry renovations on a budget are still very achievable. The trick is to do your research and find the best deals. Some budget-friendly tips include:
Selecting affordable appliances first
Installing cabinets, flooring, sinks and countertops yourself
Not touching or changing the plumbing
Just adding a splash of paint
Choosing vinyl flooring
Adding affordable decorations
Does a laundry room add value to your home?
Yes! Just like kitchen and bathroom renovations, modern laundry rooms can increase the value of your home. As long as you have enough counter space to work with, your laundry could be one of the main selling points for potential buyers.
People also read: