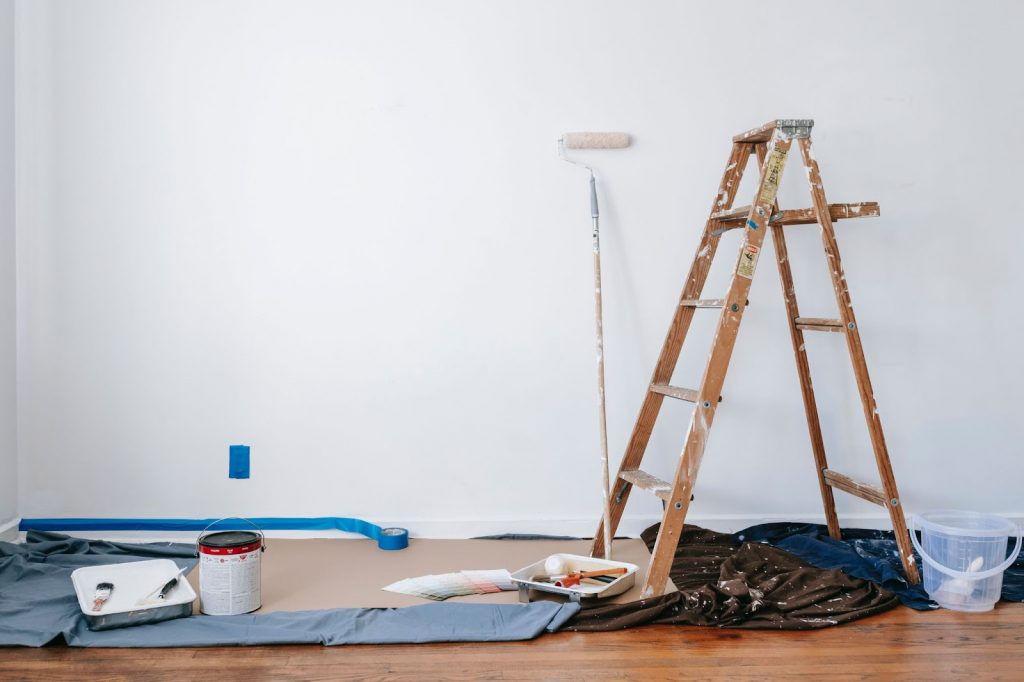 What home improvements add the most value? 8 ideas
Planning your next home renovation project? Whether you're looking to sell your home or simply freshen up your space, home improvements are one of the most affordable ways to increase value. Home renovations can be costly, but with the right planning and renovation waste removal plan, you can create your dream home within your budget.
With our 8 ideas, we'll cover what home improvements add the most value. Read on!
Overview:
What home improvements add the most value? 8 ideas
1. Painting walls with a neutral tone
An easy way to renovate your home on a budget is to re-paint rooms with a neutral tone. This is an excellent, cost-effective idea that won't require any outside help (as long as you have all the right tools and instructions).
Neutral tones are recommended because they easily freshen up your space, complement all types of furniture and appeal to prospective buyers during the selling process.
2. Landscaping your garden
Another cost-effective home improvement idea that will add the most value and improve street appeal, is landscaping your garden. From purchasing new greenery to installing lighting and new fencing, the ideas are endless!
Start by visiting your local nursery and choosing some plants, flowers, trees and shrubs to fresh up your yard. If you're looking to replace old plants and mulch, our green waste skip bins are the perfect way to stay on top of your waste.
Installing a new fence is also an excellent way to improve the aesthetics of your outdoor area, with the added bonus of privacy and security.
3. Kitchen improvements
The kitchen is one of the main selling points when it comes to buying a house. Whether you're on a budget or are looking to add extravagant features, there's a wide range of possibilities for you.
Adding a new coat of paint to your walls, and installing new lighting, appliances, cabinets and countertops are all recommended. But, remember kitchen renovations are one of the most valuable upgrades, so consider investing more into these projects if it's within your budget.
4. Bathroom improvements
The bathroom is also another high priority project when it comes to renovating. With in-depth planning you will be able to transform your bathroom with minimal costs.
Some ideas include: a fresh coat of paint to refresh the space, re-tiling the shower, and installing new showerheads,  cabinets, countertops, mirrors and  lighting.
If you're concerned about where to dispose of your excess wall tiles and ceramic (including ceramic toilets and sinks), we have brick and concrete disposal options at affordable prices.
5. New flooring
An easy way to add value to your home is by installing new flooring. We recommend hardwood floors as they help to create a modern and luxurious aesthetic.
Fresh carpet is appealing, but over time stains can lead to discolouration, along with the hassle of cleaning. That's why hardwood flooring is best due to limited cleaning and damage. If you miss the comfort and warmth of your carpet, rugs are an excellent alternative.
6. Window replacements
Replacing your windows is another excellent way to significantly increase the value of your home. There are a number of benefits that come with replacing your windows, but the biggest is that it can save on energy. Old windows may not exactly be airtight, leading to increased costs on heating and cooling. Not only will new windows help to save on electricity costs, they will also provide a modern aesthetic and be a long lasting investment.
7. Adding a deck or porch
What home improvement adds the most value in the garden? Installing a deck or porch! Functional and aesthetic, they can add  an attractive element in your garden and are super low maintenance – only requiring a weatherproof stain clean every year to protect the timber.
If a deck or porch isn't suitable for your home, try a pergola instead. It can be fully enclosed with blinds, so you can entertain and relax outside year round.
8. Installing budget blinds
A cost-effective way to add modern touches to your home is to install new budget blinds. Instead of cleaning old blinds, it's far easier and efficient to replace them entirely. Have a look around at your local blinds store and you'll be sure to find some budget-friendly roller blinds.
Roller blinds are an excellent choice as they are stylish, cheap, easy to install and seal in the cool air. These are an energy-efficient option that will be sure to increase your home's value.
Home improvements that do not add value
So now that you know what home improvements add the most value, it's also  important to know which ones may be a waste of time and money. Research and planning is key during home renovations, so make sure to invest in projects you enjoy, but don't overdo it.
We have compiled a small list below of the improvements you should avoid:
Installing solar panels
Swimming pools
Remodelled basements
Wine cellars
Making your home 'open-plan'
Statement wallpapers and flooring
Just skips is here to help
Home improvement projects often lead to a lot of leftover waste. If you're unsure about how to dispose of your waste, you can turn to Just Skips' skip bin hire in Adelaide. We offer affordable skip bin prices, three handy bin sizes and excellent customer service. Order your skin bin online today.
Home renovation FAQs
How much value does a garage add to a house in Australia?
As most Australians drive a car, and many metropolitan areas lack garage parking, people are willing to pay more to store and protect their vehicles. So if you're looking to sell your house, the addition of a garage will provide an excellent return on  investment.
How to add value to your home on a budget?
So, what home improvements add value without breaking the bank? We've compiled a budget-friendly list below:
Thoroughly cleaning your indoor and outdoor spaces
Decluttering your rooms
Replacing old light fittings
Adding indoor plants and decorations
Replacing your kitchen and bathroom tiles
Investing in new kitchen and bathroom accessories
Do new doors increase home value?
Adding new doors is an easy and cheap way to increase value and add curb appeal. You can either refresh your doors with a new coat of paint or replace it with an inexpensive option. By creating new and inviting entryways, you're guaranteed to boost the value of your home.
People also liked:
Do It Yourself Landscaping Ideas: Front Yard